Insider Tips
for Success
 Are You Attending
Virtual College Fairs!?
Virtual Campus Visits!?
Greetings Students and Families!
Whether you're a senior '22 deciding where to enroll or a Junior '23 getting ready to begin work on you college applications and essays, or thinking about
Colleges and Majors That Fit You,
  this newsletter provides valuable tips for how to navigate online college fairs and online campus visits to gain useful information and even increase your chances of a college acceptance.
If you've been reading my blogs and newsletters, you know I emphasize how important college "fit" can be and this rests on three pillars:
The "fit" between a student and a university is based upon three pillars:
1. ACADEMICS
The university you attend should provide an outstanding academic experience in your intended major/minor fields of study, along with appropriate internship and career placement opportunities. This is paramount to selecting where to attend.
There's a major field of study to match the unique strengths and interests of every young adult! With nearly 4,000 colleges offering an impressive number of traditional and cutting edge majors and minors, it can indeed be overwhelming to navigate the maze of available degree options.
Your evaluation of academics should move beyond published lists of college rankings. The most important steps include learning how to navigate through the "Academics" and the "Research" tabs to fully explore the curriculum maps, degree requirements and the research projects faculty are conducting. As a former university professor with 30+ years of experience on curriculum planning committees, I'm able to help your family assess "academic fit" and effectively explore your academic options to balance each student's current and emerging interests and strengths.
*** You can assess ACADEMIC FIT without ever stepping onto a college campus- read on please.
2. SOCIAL
The social fit is important as each student is looking to find a "home-away-from-home" for their next four years. Is the campus inviting, inclusive and are there opportunities for ongoing social and emotional growth?
This is exactly why students visit university campuses before enrolling. Your Educational and College Admissions Assessment will help you hone in on the criteria that are important to you. Let me help you understand how to have an informative and meaningful campus visit.
Assessing social fit in a pandemic? Well- yes, that's where social media and campus zoom sessions with currently enrolled students are the new norm. Please read on…
3. FINANCIAL AFFORDABILITY
Every family faces unique financial circumstances and we factor those into the choices of where to apply and enroll. Additional details are noted on our financial aid page. If you're ineligible for financial aid, merit aid remains an important option to explore.
THERE ARE MANY CAMPUSES PROVIDING an EXCELLENT EDUCATION offering deep discounts on tuition given your "admissions profile".
Stay tuned – my next newletter provides extensive information about understanding how to plan and apply for financial aid and scholarships. There are some very important differences in the pandemic to consider.
College and Campus Visits are invaluable to assessing information – and yet, this time of year when we typically attend College Fairs and visit campuses– we cannot do so in most communities. So today I want to talk about how to acquire that information virtually- and offer some tips to gain the information you need.
March/April 2020 was a real challenge for our graduating seniors '20 who needed to make choices about placing an enrollment deposit – yet in most cases students didn't have an opportunity for a first or second campus visit. For our '21 seniors- many applied to colleges they hadn't even visited – and took "unofficial" tours in spring 21 before placing deposits. Our class of 22 students are inching back into campus settings in some cases informally and unofficially – certainly the traditional high senior overnight dorm campus programs aren't occurring. Eighteen months ago, universities and society in general scrambled to close down without the time to create meaningful and informative programming opportunities. That's all changed!  We live on ZOOM and other platforms and this process is now seamless.
Virtual college ampus visits….they are meaningful!
Sophomores and Juniors– It's not too early to attend a college virtual informational session! (Seniors- by now most of your notifications arrvvied–
please contact me ASAP 
to help evaluate your Criteria: Academic, Social and Financial — and place an enrollment deposit by May 1.
For 10th and 11th grade students, the next one to two years are filled with exploration of potential majors and universities. I welcome the opportunity to guide your college research and introduce you to majors you may have overlooked that are a potential great fit given your emerging interests and academic strengths. I invite you to view my video:
STEM COLLEGE ADVISING for your STEM COLLEGE ADMISSIONS PLAN
STEM Majors- most of these may be new to you – learn more.
Multi-disciplinary and create your own major programs exist at most colleges– a great opportunity to blend many interests and these students stand-out in their applications!
MY STEM COLLEGE CLIENTS MAJOR IN TRADITIONAL AND CUTTING-AGE MAJORS:
Engineering (Mechanical, Aerospace, ECE, Civil), Computer Science, Biology, Chemistry, Physics, Engineering Physics, Robotics, Data Analytics, Molecular Biology, Pre-Med, Game Design, Architecture, Animal Science, Zoology, Neuroscience, Computational Finance, Genetics, Cognitive Science, Computational Physics, Mathematics, Applied Mathematics, Decision Sciences, Computational Biology, Financial Engineering, Industrial Design, Bio-Medical Engineering, Materials Science, Technical Writing, Technical Theater, Data Science, Actuarial Science, Environmental Science, Marine Biology, Architectural Engineering, Information Systems, Software Engineering, Physical Therapy, Nutrition, Nursing, Forensics, Biological Anthropology, Mathematical Economics, Artificial Intelligence, Bio-Ethics, Sound Engineering, Bio-Physics, Computer Music, Cyber-Security, Information Systems, Earth Science, Geology, Environmental Science/Engineering, Public Health, Infectitious Disease and more!
ONLINE COLLEGE CAMPUS VISITS
Once your actual college research is complete, COLLEGE CAMPUS VISITS are encouraged and I invite you to reach out to discuss how to determine which colleges to visit as well as how to prepare for your campus visit and potential admissions interview. This is not a time to wander- but your choices of where to visit should be very specific. At the moment, most campuses aren't allowing outside visitors– or if doing so- there are very limited opportunities. So let's look at the traditional and new approach to assessing "fit".
Spending time on a university campus is an essential part of the college planning process, providing you a glimpse of what college life entails and helping to shape your thoughts about what might be important or desirable in a university community.
That said, I'd like to begin by addressing some misconceptions about their role and outline things you can do before, during and after your campus visit to make your investment of time and money a valuable one.  Taking time away from school and work, plus the added lodging and travel expenses can be significant. For this reason, I don't encourage visiting a dozen campuses! In fact, a campus visit isn't essential in deciding whether to even
APPLY to a university. It is essential in deciding whether to
ATTEND.
COLLEGE CAMPUS VISITS:
WHAT CAN YOU LEARN?
SENIORS  Plan on attending an "Accepted Students" program during April. We have no idea what April will entail in our public health arena- so whatever format is offered- that's what you will have to accept as the new norm.
That said, I also encourage you to connect with former high school students who are currently on campuses of interest and to attend LIVE zoom sessions where break-out sessions are offered in small groups to speak with currently enrolled students. I can also connect you to my former students who attend or recently graduated.
The best of these programs pairs you with a current undergraduate to shadow their classroom(s) and even spend an overnight visit in their dorm. "Accepted Student" programs also provide the chance to meet the actual students who will be your peers-your freshman class– 2026! You may even find a potential roommate.  At the moment- universities are doing buddy-shadowing – and I really think this is awesome – because it's not just a day -but you have a connection that can span a bit of time allowing you to make the most of the opportunity.
Most important, when you can eventually step onto campus, talk with as many current students as possible. Don't be shy, reach out and ask students what they like about campus and what they don't. For now- use social media and the spaces that College Admissions groups have created that have "chat" space with students- go for it, don't be shy. Students want to tell you all about their campus! Remember, anecdotes and a small sample size don't allow you to generalize, but is there a pattern to the comments you are hearing? Know that visiting close to end-of-semester final exam will be very different from visiting at the start of a semester or right after their spring break.
SOPHOMORES and JUNIORs
There are two "waves" to campus visits. The initial wave – perhaps in the sophomore or junior year is intended to simply feel what it's like to be on a college campus.
While you may have a clear opinion or no opinion, an actual campus tour can allow you to feel what it's like on a smaller or very large campus.   Did you know that some colleges categorized as "small liberal arts" are two to three times the size of your high school with thousands of students in attendance!?!
Like the size of a salad or a steak, the definition of "small" varies considerably- don't look at labels, experience it yourself! Sophomores-there are many colleges within a short car ride from your home- a great way to start the process of exploration at little cost.
How do you feel at an urban campus where your walk to classes includes city streets filled with office buildings (NYU, Northeastern or UCLA) or do you prefer the entirety of your urban campus be contained within a well-defined campus border (Columbia)?
How do you feel about a campus so large that students must take a bus to get from the freshman dorms to the engineering quad? (Michigan) How do you feel about a beautiful green campus containing several academic quads and gorgeous buildings having more students than some cities- yet the nearest major city is two hours away? (Cornell, Penn State, Dartmouth). The initial campus visit is about "feeling" the "fit" of campus types in broad categories allowing you to further define your preferences.
*** Buyers beware, students seem to get stuck on a first-impression and fall in love with beautiful campuses and/or the first university visited. Please make sure to keep an open mind about options all the way until May of the senior year (deposits are typically due May 1)!
Please be mindful of my earlier notes- we don't pick universities because of "name recognition" or broad based aggregate rankings. We aim to first determine the major /minor field of interest. Academics, not "name recognition" guides your choice of where to apply.
Once you have an initial impression about location and size, subsequent college visits should be more carefully planned to yield valuable insights and increase your chances of admission. Let's look at how we accomplish this!
CAMPUS VISITS
Let's focus on planning your visit based on the assumption you have already done all the important research in selecting which universities provide strong academic programs in your intended major area(s) of study.
Scheduling your visit:
First and foremost- the best time to visit a campus is when undergraduates are in attendance. You're not going for an architectural tour (although the most beautiful clock towers will yield great photo ops – Purdue, Cornell, Texas @ Austin, UC Berkeley or some amazing modern structures: MIT, Northeastern.) As I note below, you want to evaluate the campus vibe by observing and speaking with current students.  So be careful about summer visits and visits during college spring breaks or even their final exam week when students are hibernating in libraries.
What to Expect?
Universities have pre-determined programs which typically include:
An information session with an admission representative in a group setting and
A campus tour typically led by current students and perhaps a
School/ Department tours (SEE BELOW ON THIS POINT!!!)
Both of these opportunities are now on ZOOM. Check out my Facebook page- I post these as often as I hear about them — but you'll likely receive the same emails I do.
When the pandemic ends and colleges open their doors again without qualifications or limitations, you will be able to determine availability, head to the "Admissions" tab on the Home page and locate a link to "plan your visit" or "schedule a tour".
Here's some examples – some only a single click away and others layered 4 clicks off the home page.
and in 4 clicks
Pay attention to scheduled tour times and admissions presentations and sign-up in advance.  Please don't JUST ARRIVE ON CAMPUS – especially now- there are limits on the number of people who can gather publically and some colleges, such as UC Boulder are also dealing with city ordinances limiting the number of young people gathering in public. Scheduling in advance guarantees you a space and you'll do your homework to make the visit an informative one. Account for travel time from an airport to campus.
While some campuses do give tours during breaks, I really want to reiterate how important it is to speak with students learning more about the campus community: Warm/inviting? Stressful? Isolated?, Inclusive? Student-life at the University is: FILL IN THE BLANK.   You cannot assess the social "fit" (1 of 3 pillars noted at the outset of this note), without an actual campus visit that includes observing/meeting current students. For our graduating seniors- you need to find was to meet as many students virtually- connecting through your high school, social media and admissions sessions. If your parent was part of Green Life – find the same Greek Life chapter and reach out!
Before your visit:
Have a truly valid reason for wanting to spend time at a given campus. Guided exploration of the available major areas of study is the first step in selecting where to visit. For example, if you are an aspiring physician and also plan to minor in dance as an undergraduate- see if this is even possible. Likewise, how strong is the writing program at the college you know will provide an outstanding engineering degree? Given an interest in Robotics or Bio-Medical Engineering, is there a well-developed set of courses or only an elective or two at most?
–         *** If there's only one thing you caught in my newsletter – this is it: !!!
–          Reach out to the designated undergraduate advisor for your intended major/department and request to spend time with currently enrolled upper division students. As a "prospective", current students will be thrilled to tell you the inside scoop about workload, their amazing and "to-be-avoided" professors and opportunities for research and internships.
How do you find that person? Easy-On the Home page, head to "Academics" and then navigate yourself to the actual major, and then to the "undergraduate" link within the major. You'll find a designated "undergraduate advisor" not always the same person as the "department head".
For example: Interested in studying Political Science at Brown? Just navigate to the Department and you'll find the name and contact information for the Director of Undergraduate Studies. That's it! The student (not a parent) should send an email in advance to request a department tour if possible.
This proactive outreach can place you in contact perhaps with a faculty who shares a similar research interest. Some of my aspiring STEM students or even niche-based history majors may want to connect with designated faculty. These connections are particularly valuable in smaller universities and can increase your chances of admissions by demonstrating informed interest.
Again, this is why we conduct research about majors prior to visiting a campus.
Are you an athlete or a musician? Plan ahead, see if you can observe a practice and meet current students with your current interests. Colleges have competitive and club teams. There are also performing groups for non-music majors.
Ask Questions
Do your homework- take notes about things that you want to know that you cannot answer on your own by exploring the college website. Please please please don't embarrass yourself by asking any question of admissions representatives that you know are readily available on the website. This shows you didn't do your homework and/or you're lazy. Instead, asking an educated question such as: "I noticed the Undergraduate Research Opportunities Program" – how likely is it for freshman to participate in research? Or, "can you tell me more about the academic advising that is available to pre-health professionals?" Please don't ask: what's the average SAT score!!
Overnight Programs:
Post- Pandemic – Explore whether overnight visits are available to shadow a current student. These programs are available for seniors in the fall and for accepted students in the spring. More below.
During the Visit
Create your own tour- meet students! Wander the campus after the official tour has ended. Have lunch or dinner in a popular on-campus dining hall and introduce yourself and ask questions. This will be possible again- for now- I strongly encourage you to attend ZOOM sessions that are interactive and ask questions about life on campus- stress? helpful professors? Things to do? Competitive?
Club Connections:
As noted above, plan ahead and aim to observe or attend a club athletic practice or perhaps a music practice.
Is your faith or cultural affiliation important to you? Try to coordinate your campus visit for a Friday or a Monday leaving time on the weekend to connect and/or worship with fellow students. These organizations offer a variety of opportunities. e.g. Hillel, Newman Center, Hindu Cultural Center, Interfaith groups?
WHERE DO YOU FIND THIS TYPE OF INFORMATION?
On the university Home page navigate to the link entitled: "social life or campus life" and you'll find a list of student-run campus organizations. If you reach out in advance you will be able to meet current undergraduates who will welcome you to join them in events (typically parents hang back at the hotel).
Parent Greek Life?  Mom or dad a Greek member? Find the house on campus and visit! You'll be welcomed as family!
Legacy Parent?
Likewise, if you are visiting a campus that either parent or grandparent attended, absolutely call ahead to the Alumni Affairs office- you'll be give the white-glove treatment (they will also hit you up for a donation!).
If you reach out in advance, you may also be able to be paired with a current student and Attend a class.
Reducing Costs: It is expensive to visit college campuses. You may decide to pair up with another friend and trade places for some visits. Parents don't have to attend every campus visit and students can travel solo with another family. I'm not however a supporter of those massive bus tours-because there's no time to accomplish everything I've written above.
Land and drive – within a 3 to 5 hour drive you can reach many campuses. Please see my earlier note organizing my top picks of a range of competitive to less competitive colleges in different regions/cities.
***Many universities sponsor campus visit programs free-of-charge, including airfare as part of their effort to recruit under-represented students. Please contact me for recommendations of these competitive programs including those at Emory, Cornell, Carnegie Mellon, Johns Hopkins and many more. You need to apply early- typically some time in the summer to be selected to participate in the fall senior visit programs.
AFTER YOUR VISIT
–          Debrief – spend some time evaluating your impressions and reviewing your notes.
–          Send a thank-you note to every person you met. You may be reconnecting with the same admissions representative or faculty at some point in the admissions cycle and having a designated contact person shows informed and demonstrated interest. This plays a role in increasing your chances of admissions for some but not all universities.
COLLEGE APPLICATIONS- COLLEGE INTERVIEWS – ALUMNI INTERVIEWS– Stay tuned for my FAQ list in early November– Contact me to conduct a Mock Interview – I've been interviewing for Cornell and a former faculty Admissions Rep.
It is indeed never too early to begin Educational and College Admissions Planning!
College Admissions Planning- Start Early- Increase Your Chances of College Acceptance
Whether you're ready to write your college essays or just beginning to research colleges and majors, or perhaps you want to create a customized reading, learning and time management plan to explore or deepen an academic/personal interest, I invite you to 
contact me to schedule
 your Educational and College Planning Assessment available for current seniors and all middle and high school students.
Best wishes for a absolutely meaningful and enriching 2021-22.  May your family stay safe during the ongoing pandemic. Please remember, we are all citizens of local and global communities – do your part to help those in need and to keep your neighbors safe.
Bonnie
DO YOU HAVE A STRATEGIC EDUCATIONAL & COLLEGE ADMISSIONS PLAN FOR SUCCESS?
ARE YOU ON TARGET?
YOUR PERSONALIZED EDUCATIONAL AND COLLEGE ADMISSIONS PLAN RESULTS IN MOTIVATED, SELF-DIRECTED & CONFIDENT YOUNG ADULTS READY TO SUCCEED!
WITH OVER THIRTY YEARS OF EXPERIENCE AS A UNIVERSITY PROFESSOR & ADMISSIONS COMMITTEE MEMBER YOU'RE INVITED TO LEVERAGE HER EXTENSIVE KNOWLEDGE OF UNIVERSITY CURRICULA AND CAREER OPPORTUNITIES TO BUILD YOUR COLLEGE PLAN!.
I WISH ALL HIGH SCHOOL AND UNDERGRADUATE STUDENTS CONTINUED SUCCESS – defined by a joyful and meaningful year both within and outside the classroom.
Define and Set Your Goals with College Advisor Bonnie Rabin, PhD
Post-Pandemic In-Person
South Florida 561.509.0021
Boulder/Denver and Metro NYC 720.737.9944
NATIONWIDE ONLINE COLLEGE ADVISING : 833.MY.ESSAY
STEM COLLEGE ADVISING
STEM, Business, Humanities, Creative Arts – Find Your Passion and Be Unique!
Especially for Juniors:
There  are 3900+ potential colleges in the US!.
Juniors should begin the process of exploring major areas of interest. Leverage my university experience and knowledge of a variety of majors. Let's explore together!
Look for synergies between your high school curriculum, your strengths and potential undergraduate majors of interest!
WRITERS BLOCK is included in all packages.  Students will spend time to complete their Common / Coalition Core Essays prior to summer vacation.
I invite you to contact me with any questions about decisions you're facing about your courses, extracurricular activities, learning accommodations or the entirety of your college application process.
Have an awesome day!
Bonnie R. Rabin, Ph.D.
Educational and College Admissions Consultant
South Florida 561.509.0021    Click to View our
Boca Raton Location
Boulder and Metro Denver Colorado 720.737.9944    Click to view Our
Boulder
and
Metro Denver
Locations
Nationwide  833.MY.ESSAY
Is Your High School Student on Target- Curious, Independent?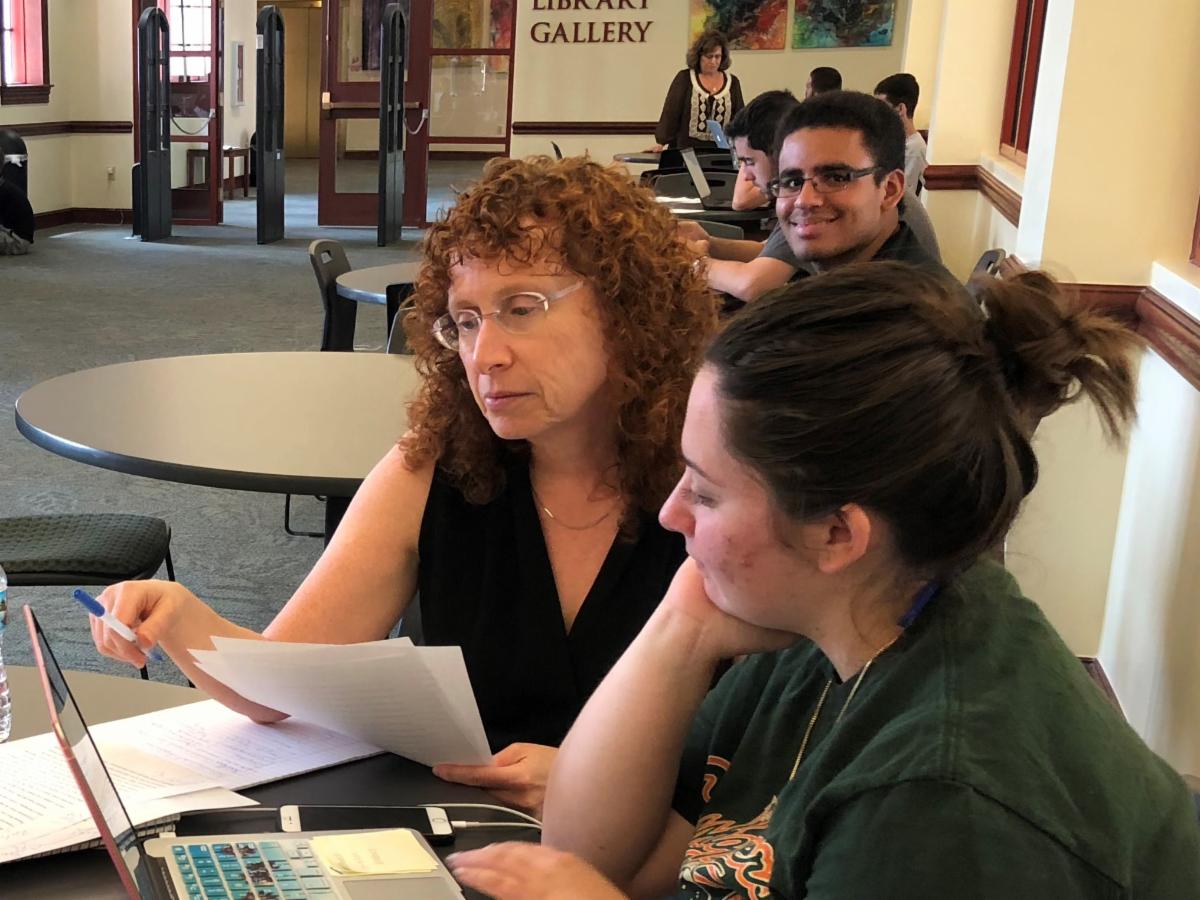 Nationwide Online College Counselor   833.MY.ESSAY
STEM College Admissions Advising – Click to Learn More  STEM
Discover and Explore College Advisor
Bonnie R. Rabin, Ph.D.
Guiding her clients to define and realize educational and career goals.
With over thirty years experience as a university professor and admissions committee member, you're invited to leverage her extensive knowledge of university curricula and career opportunities.
Be inspired!
Pre-College Academic Advising!
Congrats!!!  A SAMPLE of our Recent College Acceptances Include:
UC Berkeley, USC, Princeton, Chicago, Cornell, Boston, Carnegie Mellon, NYU, WUSTL, U Michigan (Engineering & Other majors), University of Illinois (Engineering & Others), Miami, Dartmouth, Brown, SCAD, Tulane, Drexel Honors, Parsons, Berklee College of Music, UArizona, Penn State, UT Austin, Pittsburgh, SUNY Stonybrook, RIT, UF plus many more…