Greetings Students and Families,
I know many of you are regular readers of my blog and have been following my updates about all things related to the impact of COVID on College Planning, College Admissions and the Common-App season ahead.  Summer vacation is underway _- recharge!   But it's also a time to be rethinking your educational goals and continuing to explore. How can we use the summer to deepen your academic and personal interests? How can summer break be an opportunity to explore- even from the comfort of your home?
Your College Admissions and Educational Plans haven't changed – but your road towards that goal is filled with bumps, blocks and detours. So let's look at some interesting ways to spend your time this summer. This is the first of a two part series on the topic. It's important not to forget the importance of learning and to be accountable for how you prepare for the next academic year- regardless of the modality. The reality, school will be disrupted next year- so let's let our teens take the lead.
SUMMER PROJECTS & SUGGESTED SUMMER READING 
AT HOME & AWAY
I'd like to offer some suggestions for projects students of all academic levels and interests can do at home or even if away at summer camp including providing some suggestions for summer reading.
Tip 1: Coding is an Essential Skill – STEM, Business, Humanities & the Arts!
Interested in Learning to Code? A few thousand people collaborated to produce the epic series. Most of the Toy Story team has an understanding and awareness of the fundamental principles related to coding.
Are you thinking about heading to the financial sector, possibly engaging in marketing, or perhaps have aspirations of managing a political campaign or evening contributing to a multi-disciplinary team that addressing global warming or revolutionize how we treat disease?
Each of these fields requires knowledge of how to manipulate and analyze large-scale data sets to lead to successful outcomes. Coding is fundamental to contributing to these and a vast array of projects underway that improve our quality of life.
This summer- consider learning to code by enrolling in a coding class online or at a local enrichment center.    
My favorites:
Multi-disciplinary problem-solving is typical in the fast-paced and incredibly competitive technical sector.  Students in all fields, including video-gaming/artists, filmmakers, financial gurus and even aspiring physicians are at a competitive advantage having acquired basic programming skills.   Robotics and Artificial Intelligence continue to influence all fields. Understanding the basics of coding is essential to success in STEM and many disciplines.  Have you considered "Computational Finance" or "Computational Biology" as potential majors?
Is there a GAMER in your house? The team of computer scientists, mathematicians, artists, musicians, and business majors that bring you
TWITCH- LIVE GAMING STREAMING
  are incredibly passionate about what they do and are well educated team players who earn some very impressive starting salaries.  Parents – if you don't know about TWITCH- you're dating yourselves!
Tip 2: Self-Guided Exploration – 
So your biology teacher ignited an interest in "Genetics" or maybe your social studies teacher or a social media post has you wondering about genetics, global warming, nutrition or your own approach to time management.
Watch TED TALKS on topics that stretch your mind to think outside the box. I'd love to talk with young adults about their selections and discuss your thoughts about what you've watched and how this relates to emerging academic and personal interests. Your goal- explore something new and be inspired!
If you are really awesome at math, playing an instrument or whatever might be a passion- why not offer to share your skills with others through Zoom classes?
Since your most anticipated summer counselor experience was cancelled, why not look for ways to learn about something with others and take the leadership role. You could even organize a book group, cooking class, weekly sing-a-longs- the point again, ADAPT and find your community of learners ONLINE.
Tip 3: Suggested Summer Readings
If you chose the right books, reading is fun!
Reading continues to develop your communications skill set. You wouldn't run a marathon without having prepared. Reading is your preparation for life – life? Yes Life!
Whatever career field you may ultimately embark upon in 5 to 10 years, you'll be working as part of a team of professionals. Creativity is enhanced when people bring unique and well-informed perspectives to solve problems – problems of all sorts.
Also, when you read, you're preparing one page at a time for your SAT/ACT on the horizon in your junior year of high school. Reading also prepares you for college essays- several colleges have essay prompts asking about books you've read for pleasure. Mostly, your ability to engage in conversations about a vast array of issues is greatly enhanced when you are well-read and well educated. Reading is a lifelong endeavor.
These are my suggestions in fiction and non-fiction.
Let's customize your list given your emerging educational and personal interests.
Non-Fiction
The Last Lecture Randy Pausch (Also a video)
A Whole New Mind – Daniel Pink (Visual Arts, STEM & Business majors will enjoy this one!)
The Black Swan  – Nassim Nicholas Taleb
The Tipping Point   – Malcolm Gladwell
A History of Everything   Bill Bryson (Scientists and Historians alike will love this book)
You are a Badass – Jen Sincero (Inspirational !)
Grit by Angela Duckworth (If you're a "B" Student or an "A" student – you'll find this book both inspirational and reassuring!)
The Gene,' by Siddhartha Mukherjee (Especially for aspiring Physicians and Scientists)
Seven Brief Lessons on Physics – Carlo Rovelli
Soonish: Ten Emerging Technologies That'll Improve and/or Ruin Everything Kelly Weinersmith
Hyperspace by Michio Kaku
The Life & Success Stories Of A Shark Billionaire: Biography by Mark Cuban
The Audacity of Hope – Barack Obama
The Elegant Universe Brian Green
The Fabric of the Cosmos   Brian Greene
Silent Spring Rachel Carson
FICTION-  Both Recent Publications & Classics
Girls Burn Brighter   by Shobha Rao
Gingerbread by Helen Oyeyemi
Don Quixote by Miguel de Cervantes.
Moby Dick by Herman Melville
1984 by George Orwell
Epic of Gilgamesh by Unknown (one of the earliest works of literature in humanity)
If you don't like my suggestions- scroll through these well respected literary book lists for suggestions in all sorts of categories including fiction, non-fiction, sci-fi, self-help and many more.
(Multiple categories include"Best Adult Vampire" )
(Assorted categories of fiction, non-fiction, adult, youth, childrens)
Tip 4– Prepare for Next Year
All students should jump start their anticipated most difficult classes for next year.  For most students, that would be an AP Math or AP Science class.  Spend disciplined time 2-3x a week to become familiar with concepts you'll be learning the first semester. Buy the SATII/AP books and read them. EdX offers "on-ramp" courses.
Let me help your student create a manageable summer schedule and help monitor their progress and success throughout the summer.
Tip 5– Where Do People Leave Their Mark?
Finally, I encourage young adults to read the amazing initiative started by Bill Gates and Warren Buffet:
The Giving Pledge
  Bill Gates and Warren Buffet are encouraging the wealthiest individuals in the world to give back to society through philanthropic initiatives that can make a difference in the world.  Learn about how billionaires earned their wealth and how they are changing the world. Who do you admire most? Why?  Where will you leave your mark on society?
At many of my initial meetings with Rising Seniors, families arrive with an (unsolicited) list of universities.   Selecting a college prior to first knowing more about what potential majors are truly a good "fit" for a student's interests and strengths will create a situation for a missed opportunity.
That's why  the years of middle and high school are so important because it's the time to generate a spark that is unique to your child! Summer is time to ignite!
With a few hundred academic majors and nearly 4000 undergraduate colleges, it's very unlikely that the middle and high school curriculum and extracurricular experiences enjoyed thus far have put all of the available and amazing options on your student's radar.
THAT IS STEP 1 of your   College exploration process!!  
Let me help your student explore:
undergraduate curriculum maps, and
faculty research institutes
to discover the "problem" they want to solve.
Where will your student make an impact!?

How can we create hands-on experiences to nurture those interests and strengths?
JUMP START YOUR COLLEGE ADMISSIONS PLAN – GUIDED SUMMER PROJECTS

There's a project for everyone!
STEM (Science, Technology, Engineering, Math) students are provided with a list of Do-It-Yourself (DIY) projects and ideas for potential entry into science fairs this fall.
At your school consider:  MU Alpha Theta (Math),  NACLO (Computational Linguistics Competition), FIRST Robotics,  Science Olympiad, TSA or the Google or Intel Science Fairs.
ARTISTS and MUSICIANS should be working on developing their portfolio and honing skills in disciplined creative work thinking ahead to competitive local venues.
BUSINESS/LIBERAL ARTS – Explore a topic of interest with an eye towards writing an essay you can enter into any number of local and national essay competitions (business, history, etc.)  sponsored by a variety of organizations. Need suggestions?  Start a blog on a topic you're passionate about and when school begins in the fall, bring your best Blog pieces to the school newspaper.
Another meaningful and joyful way to spend your time as well as demonstrating your passion about your interest is to become a volunteer mentor for younger students. There are many opportunities to do so through tutoring, religious organizations, middle school clubs, sports teams and even starting your own business assisting others to learn more.
IS YOUR STUDENT ON TARGET? 
Curious? Independent?
Build your personalized Educational & College Admissions Plan!
Bonnie R. Rabin, Ph.D. guides her clients to define and realize educational and career goals.
With over thirty years of experience as a university professor & admissions committee member you're invited to leverage her extensive knowledge of university curricula and career opportunities to BUILD YOUR COLLEGE PLAN!.
Be inspired! 
College Admissions & Academic Advising  
Educational & College Admissions Consulting:
Academic assessment and extracurricular planning
Customized solutions for effective study habits, time management and test taking strategies
Assistance with college research and program majors to create a list of target, reach and likely admit schools.
Negotiating and maximizing your financial aid award, including targeted scholarship search
Guided college application assistance including application deadline management.
Admissions essay- finding your niche, topic development and guided editing of multiple drafts of your Common Application core and supplemental essays and Scholarships
Career Services:
Resume, cover letters and networking  
Coaching new graduates
Graduate School 
CLICKABLE LINKS TO RECENT NEWSLETTERS & YOUTUBE VIDEOS:
No student should be enrolled in seven AP classes. Please review this note discussing the balance between selected classes and your extracurricular life to increase your chances of a successful undergraduate experience.
A discussion of the value and importance of early academic and college planning so that each young adult enjoys a meaningful high school experience leading to a seamless transition to their undergraduate college.

A discussion of the value and importance of early academic and college planning so that each young adult enjoys a meaningful high school experience leading to a seamless transition to their undergraduate college. 
Best wishes for a restful and joyful summer!
Have a wonderful weekend!
Bonnie
Bonnie R. Rabin, Ph.D.
Educational and College Admissions Consultant
South Florida 561.509.0021    Click to View our 
Boca Raton Location
Boulder and Metro Denver Colorado 720.737.9944    Click to view Our 
Boulder
and 
Metro Denver
 Locations
Is Your High School Student on Target- Curious, Independent?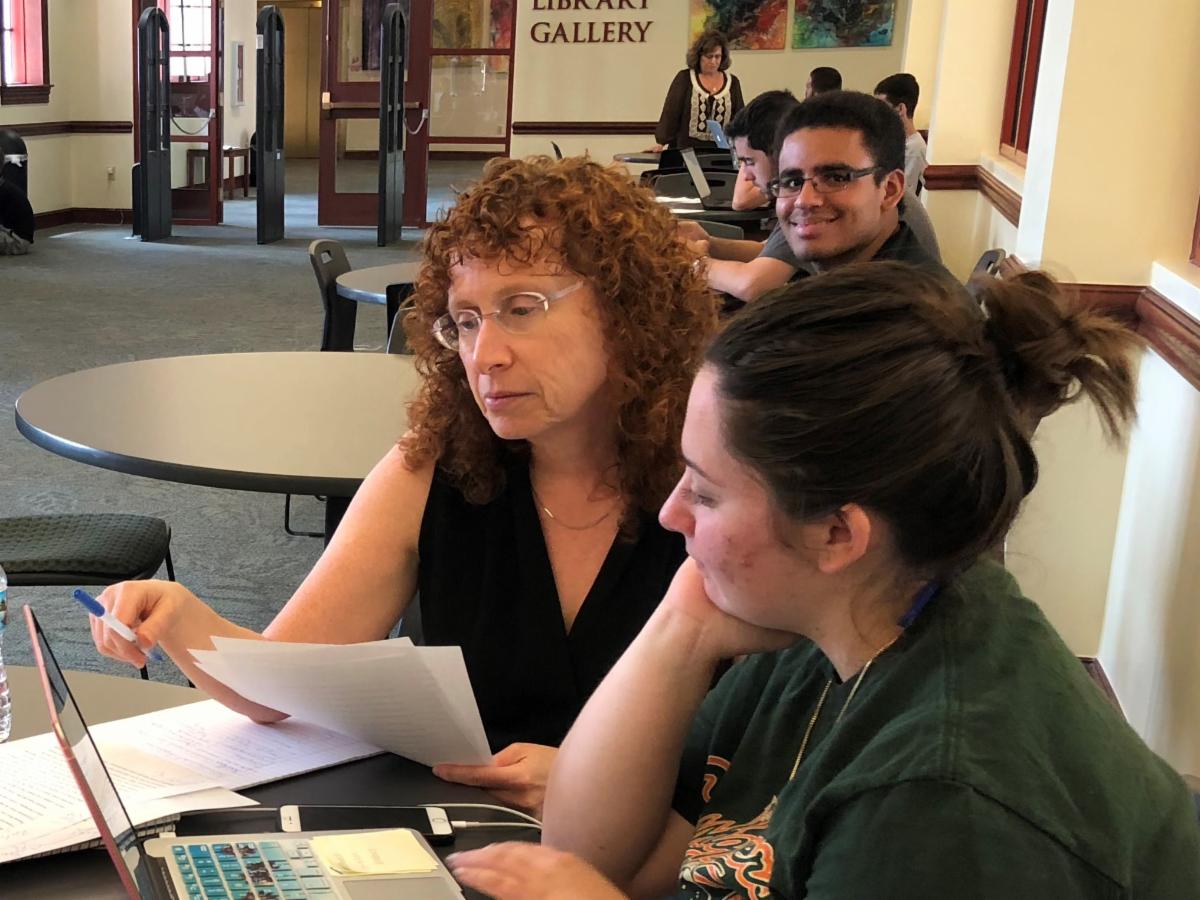 Discover and Explore College Advisor
Bonnie R. Rabin, Ph.D.
Guiding her clients to define and realize educational and career goals.
With over thirty years experience as a university professor and admissions committee member, you're invited to leverage her extensive knowledge of university curricula and career opportunities.
Be inspired!
Pre-College Academic Advising!
Congrats!!!  A SAMPLE of our Recent College Acceptances Include:
Congrats!!! A SAMPLE of our recent College Acceptances Include:
UC Berkeley, Carnegie Mellon, UPenn, Princeton, Cornell, U. Michigan, Northwestern, Georgia Tech, Barnard, Columbia, Smith, Stanford, University of North Carolina, Vassar, Brown, Bowdoin, Wellesley, USC, Emory, U.Illinois, Notre Dame, NYU, Rice, University of Chicago, Washington University (WUSTL), Drexel, Tulane, London School of Economics, Purdue, Swarthmore, SCAD, Ohio, Georgetown, Hamilton, Reed, Miami, Johns Hopkins, University of Florida, University of Arizona, Penn State, Villanova, Northeastern, SUNY-ESF, St. Johns, Embry-Riddle, Colgate, Fordham, Columbia, Barnard, Syracuse, Swarthmore, Pittsburgh, Dickinson, Colorado, Rensselaer Polytechnic Institute, Howard, Fordham, SUNY Stonybrook, Duke, Case Western, Rochester Institute of Technology, Parsons, Virginia Tech, Boston U., Hobart & William Smith, Claremont Mckenna, Davidson, Westpoint, Gettysburg, Amherst, Temple, Denison, Howard, UT Austin, SUNY-Binghamton, Hamilton, George Washington, American, Indiana, SMU, James Madison, and many more!…
WRITE YOUR STORY!