Greetings Middle & High School Families!
On Valentine's Day we spoke about "love" –it's one of those words that students overuse or misuse in college and scholarship essays– "I've been in love with science for as long as I can remember"– well, probably not.  More likely,  your passion or interest was sparked by courses you've taken – a teacher, a lab, a lecture, a discussion- something that caught your attention and ignited an interest in STEM, Business, International Affairs, the Arts–  courses are the first step of exploration – but the rest is up to you. Let's talk about "Loving High School"!!
It's Time for Course Planning 2021-22  
AP, IB, AICE, Academies, 
Dual-Enrollment??!!
  At this time of year, students and parents should be working closely with their high school guidance counselor and private college advisor to discuss academic plans in light of decisions to be made about course selection.  I field many questions about   about the value of "Academies", AP classes, AICE vs. IB diplomas and whether "Dual-Enrollment" classes are appropriate.   I always emphasize challenge, comfort and discovery.   If you missed my earlier blog about high school planning, please click to view here.  
Today let's talk about AP vs IB vs AICE   – View or Read on….
What inspires your student?    CLICK TO Schedule your Educational and College Admissions Assessment today – Build Your Strategic Academic Plan!
AP vs. IP  vs. AICE
AP Classes
  Yes, whether you attend high school in Boca Raton, Fl  or Boulder Colorado, – AP classes are the most challenging courses available in your high school and will prepare your student for the reality of the demands of the undergraduate academic experience.   Moreover, your scores on AP exams allow admissions to objectively compare students across high schools.  AP exam scores are NOT a required element on your college application, but excluding them in the space provided on the Common Application hints at your score. No one fails to share a "4" or a "5" on their college application.   BEWARE: some high schools actually report your AP score on your transcript.
  AP exam scores may also substitute for SAT/ACT scores at Test-Flexible universities. For example, including three exams of your choice allows subject-specific test takers to reduce test anxiety and increase their chances of college admissions.  
With the recent elimination of the SAT II Subject Tests- selective colleges and STEM programs that relied /required Subject Tests are very likely going to shift and request AP exams scores as part of your Common Application. It's important to spend your time to demonstrate mastery in these exams – which are sadly considerably more challenging than the 1-hour Subject Tests. That said, there's no rush to add multiple AP Courses – but if you do take these – it's important to engage in regular test prep to do well during end-of-year exams. This year – and noted in my earlier blog- the exam scheduled has been changed to reflect 3 rounds of testing dates to accommodate the ongoing disruption from the pandemic.
For a complete list of available AP and their descriptions CLICK HERE for AP COURSES.
Ask me which AP tests are invaluable, if not essential, given your student's longer-term educational plans. These provide a foundation of academic college prep and build confidence and ease the transition to the undergraduate experience.

For example, aspiring engineers- AP Physics C preferred over AP Physics 1.   Despite the best of intentions and the best time management, enrolling in too many AP classes can create hours of homework thus limiting time available  for meaningful extracurricular activities (which are also essential for admissions success), needed sleep and family harmony (parent-child dynamics suffer when students are stressed and unnecessary homework  completion "arguments" ensue).
For example, if your student is STEM focused, there is little admissions advantage gained from taking AP History classes which have exceptionally large homework demands.
COLLEGE ADMISSIONS TIP: Again, admissions representatives aren't impressed by APUSH on a STEM applicant's high school transcript.  The flip side, humanities driven students might consider the importance of "big data"! All disciplines are now moving to analytics. So, while AP Physics isn't necessarily your cup of tea, if you're a pre-law, business or even an aspiring English major, consider AP Statistics, AP Psychology or AP Computer Science adding breadth to your file setting you apart from the typical humanities applicant.Don't follow the crowd- but focus on creating your unique high school curriculum plan that is relevant to your education, college admissions and career objectives. Leverage my extensive knowledge of academic disciplines and explore some unusual major areas of study (increasing your odds of admission and making you a stronger student).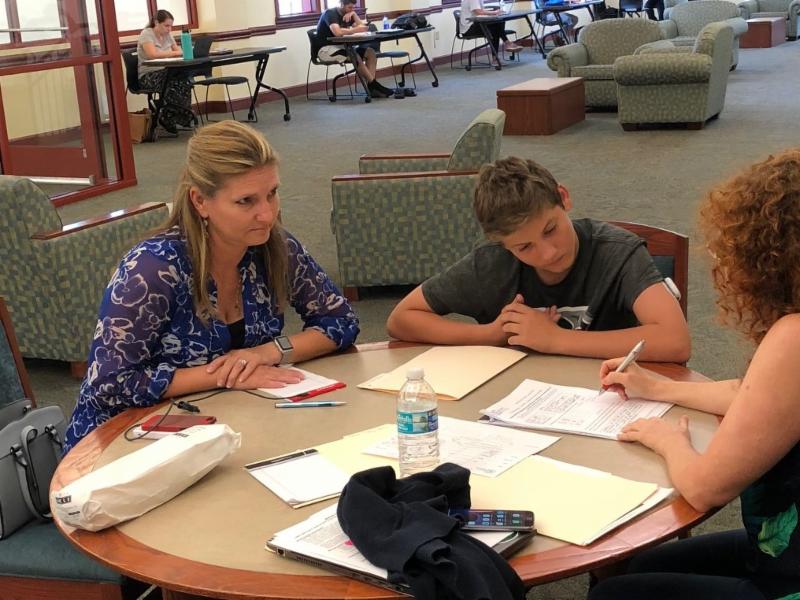 THE DIFFERENCES: 
AP vs. IB vs. AICE
  As noted, the Advanced Placement (AP) and International Baccalaureate (IB) and AICE programs are college-level courses providing the opportunity to earn college credit. The underlying educational philosophies are quite different. The AP program is offered through the College Board and allows students to select one or a dozen courses tailored to their specific goals. In contrast, the IB program was developed in Europe and as the name implies, it's an international program.  Students earn a diploma by completing a specified number of courses across a range of subjects. To earn a diploma, there are specific distribution requirements. In some high schools, students are allowed to enroll in just a few IBs without earning their diploma.  This is also the case for the AICE program. IB courses and the overall program place a significant emphasis on writing and developing critical thinking skills. Earning an IB diploma requires each student to complete an extended essay on a research paper. Unfortunately, many high schools don't schedule the timing of the essay to offer students the opportunity to submit their IB research papers to nationally sponsored essay competitions or to include on their college applications submitted early in the senior year. Aside: Click to View  COMPETITIONS increase ADMISSIONS SUCCESS
A noteworthy difference between an AICE and IB diploma is flexibility. Students can select courses within three AICE curriculum areas. AICE is the most recent of the programs (piloted within the state of Florida), and it was only recently that the Common Application even recognized AICE as an option for designating course level. It is one of the newest advanced academic programs. AICE courses aren't as difficult as AP or IB courses.AICE courses don't often prepare students for success on required SATII subject tests. Like the IB diploma, students within an AICE program take a variety of different level exams with specific subject area distributions with an option to earn an AICE Diploma. Few competitive colleges accept AICE credits towards the undergraduate transcript. The AP program creates opportunities for students to learn specific content and subsequently tests this knowledge on AP exams. Courses have content objectives. AP exams have become the gold-standard of an academically rigorous curriculum. Earning a high grade on an AP exam can overshadow the high school transcript. For STEM students to be competitive in the admissions process, AP Calculus, AP Bio/Chem and/or Physics, APCS are invaluable and often expected on a student's transcript to be a viable candidate in the most competitive of colleges. Likewise, courses in AP History or AP Economics or AP Lang/Lit will be invaluable to preparation for many Humanities and Business students.
College Admissions TIP:   As discussed in my blog on required testing (see side bar above for links to recent newsletters), many competitive colleges require SATII subject tests. AP exams better prepare students for these exams than do AICE or IB classes.   In some sense, this is expected, as both AP and Subject tests are administered by the College Board. Let's discuss whether Dual-Enrollment is right for you!   Please stay tuned- my next blog will address this topic.  Bottom line- it's not meant to be a substitute but a supplement to your high school course offerings.        I look forward to  your mid-year consultation an essential part of building your educational plan and realizing your dreams.   CLICK Here to Schedule a Consultation
    Bonnie R. Rabin, Ph.D. Educational and College Admissions Consultant
Professor Emeritus  – Cornell Alumni Rep
In-Person South Florida(Boca Raton) and  Metro Denver & Boulder Colorado  
<< Please view our local pages for high schools and communities of service)
Virtually – Wherever You Are Florida: 561.509.0021 Colorado:  720.737.9944 Nationwide:  833.MY.ESSAY    
  Juniors– Class of 2022- FINISH YOUR COLLEGE ESSAY BEFORE SUMMER BREAK! June WRITERS BLOCK DATES, information and registration: CLICK TO LEARN MORE ABOUT OUR WORKSHOP