Greetings Current Undergraduates Students and Families,
Many students transfer – Let's look at that population:
Freshman- After giving it nearly a full year–it's not about "homesickness" or "adjusting" – the "fit" just isn't for you –
Current Students– You've changed your major a few times and having clearly developed a post-graduate career/educational plan- there's a stronger academic setting elsewhere
Maybe you just completed an Associates degree and you're ready to move on to earn your Bachelor's degree –
Given my thirty years of experience teaching and advising undergraduate and graduate students, I've been amazed at the quick transformation that young adults experience stepping onto a college campus and plans change.  Let's talk about transferring!
TRANSFER STUDENTS – -THINGS TO KNOW IF YOU PLAN TO TRANSFER?
In case you missed my summer resources for new college freshman – also relevant to sophomores, please consider these links below packed with tips for navigating your undergraduate curriculum.  If you're focused on pre-med, pre-law, an MBA or  thinking about how your engineering degree will help you step on the Google campus, let's talk about your UNDERGRADUATE COLLEGE & CAREER PLAN.  At some point ahead, whether it's a resume/cover letter launching or  writing a graduate purpose statement mapping out a plan for each year of your undergraduate experience will build the skills and experiences for the post-graduate experience.
COLLEGE PLANNING: UNDERGRADUATE SUCCESS- PRE-MED, PRE-LAW, CAREER FAIRS- TIPS FOR COLLEGE FRESHMAN
COLLEGE PLANNING -TIPS FOR NEW COLLEGE FRESHMAN – CLASS OF 2023 – PART I – All the things you didn't think about!
COLLEGE PLANNING -TIPS FOR NEW COLLEGE FRESHMAN – CLASS OF 2023 – PART II – UNDERSTANDING YOUR DEGREE!
I continue to remind all currently enrolled undergrad to seek out your Undergraduate Academic Advisor and make a personal connection.  Your conversation should extend beyond the frantic 10-minute conversation selecting your semester's classes.  Ask for another time to meet outside of semester course registration that might be less rushed and an opportunity to share your vision and goals and ask for suggestions on what student organizations and professional opportunities exist on campus.  GET INVOLVED!!  If that's unavailable then reach out to speak with me and plan your undergraduate years– I've met with over a thousand students in the past three decades – let's talk.
Click to Connect and Schedule with Undergraduate Academic Advisor Bonnie Rabin, PhD
For those of you heading to a larger university, freshman/sophomore advising teams aren't  typically as personal or as robust as you should expect.  I would welcome the opportunity to work with students as your dedicated undergraduate academic advisor the next four years.  Please reach out to connect. andCLICK TO VIEW MY VIDEO Detailing Roles of an Academic Advisor
TRANSFER STUDENTS – -THINGS TO KNOW IF YOU PLAN TO TRANSFER?
https://www.youtube.com/watch?v=BamtUFqr1Vo&t=184s

WHAT DO COLLEGES CONSIDER ABOUT YOUR TRANSFER APPLICATION?
When providing college admissions consulting to high school students, I emphasize the importance of selecting a college that fits each student based on three pillars.  Despite all your research – what if you want to transfer?   These three pillars are equally important to consider and I'd like to discuss some of the unique aspects to consider as a transfer student.
WHAT DO YOU NEED TO KNOW ABOUT TRANSFERRING AND EARNING YOUR UNDERGRADUATE DEGREE?
The "fit" between a student and a university is based upon three pillars:  What's unique about "transfers" – ??
1. ACADEMICS
The university you attend should provide an outstanding academic experience in your intended major/minor fields of study, along with appropriate internship and career placement opportunities. This is paramount to selecting where to attend.  Sometimes we are undecided as high school students and other times we weren't performing as well as would yield a more selective college.   Once you're certain about your major- finding the best program might require an undergraduate transfer.
There's a major field of study to match the unique strengths and interests of every young adult! With nearly 4,000 US colleges offering an impressive number of traditional and cutting-edge or multi-disciplinary majors and minors, it can indeed be overwhelming to navigate the maze of available degree options.
Your evaluation of academics should move beyond published lists of college rankings.  In the "Myth of Acceptance Rates" – I caution against using college rankings and acceptance rates to guide your choice of colleges.
Please instead of reading lists, learning how to navigate through the "Academics" and the "Research" tabs of a university website to fully explore the curriculum maps, degree requirements and the research projects faculty are conducting will help you find your perfect academic fit. As a former university professor with 30+ years of experience advising undergraduates and serving on curriculum planning committees, I'm able to help your family assess "academic fit" and effectively explore your academic options to balance each student's current and emerging interests and strengths.
If you're considering transferring –let's talk about what to know. Colleges typically ask one key question in the essay you'll write on your undergraduate transfer application- "How will transferring to 'X' university help you realize your academic objectives?"
As a transfer student, you should also be aware of each university's  "residency" requirements.  This are a  minimum number of credit hours that must be completed in residence. Many of the more selective colleges require 45 to 60 credits.  Very few universities will allow you to transfer and earn your degree with only 30 credits/two semesters on campus.
Plan on spending 18 months at the campus you've transferred to and any less will leave your transcript looking unappealing to any subsequent graduate school or career applications.
There are two types of transfer applications – those for students with fewer than 30 earned credits and those with over 60 credits towards the degree. Your chances of acceptance, whether your high school transcript/standardized scores are considered and even if you can actually receive consideration will depend on how far along you are in your undergraduate program.  More on these points below.
If you are interested in transferring, the application is quite different – you'll be expected to detail the academic reasons behind your decision to transfer. These essays are less like the common app core essays you completed while in high school and instead resemble the university specific supplemental essay prompts asking about your intended field of study.
What's A transfer Credit evaluation?
As a transfer student, you can request a transfer credit evaluation- learning more about which credits you've completed at your currently enrolled institution will fulfill major requirements. If you're trading up-  joining a stronger team- you will very likely see some of your 100 level entry point courses deleted-certainly any lighter-weight math or science or remedial coursework will often not transfer over. You may find yourself needing to repeat classes.This is a double-edged sword- it is an indication that you're enrolling at a more selective college –a good thing- but alas, it is a reflection that your coursework wasn't considered strong enough and you will likely spend more time in your new campus to complete degree requirements.
2. SOCIAL
The social fit is important as each student is looking to find a "home-away-from-home" during the undergraduate experience. Is the campus inviting, inclusive and are there opportunities for ongoing social and emotional growth?  If you're mid way into your degree – this takes on less important- and the "academics" become very important. If the reason you're transferring is one related to the inability to feel at home – and you've given it your best try- make sure that you understand what was missing to help find a college where you can find your home.
This is exactly why students visit university campuses before enrolling, but people change as do expectations and preferences. Your Educational and College Admissions Assessment as a high school student helped to hone in on the criteria that were important to you as a teen.
Now that you've been away from home (or perhaps you didn't leave home at all), your emerging independent adult may be ready for another setting to more fully explore at a more suitable campus community.
On-campus HOUSING options  for Transfer Students ?
Let's have the conversation. Keep in mind, transfer students are often housed off campus- and rarely will transfer students be placed into a freshman dorm. If anything, two transfers might be placed together in an upper classmen dorm – a single room or no guaranteed housing options are even available to transfers.
Again, as noted above, colleges typically have less interest in knowing about your social needs in your transfer application. The focus to emphasize are your emerging academic goals- think of transfer applications as a graduate school application on training wheels- it's the warm-up essay for subsequent graduate applications (or perhaps an cover letter for a potential employer.)
3. FINANCIAL AFFORDABILITY
Every family faces unique financial circumstances and we factor those into the choices of where to apply and enroll. This continues to be relevant to transfer students.  Most important for a transfer student will be whether additional semesters of study are required to complete the degree requirements- in which case, depending on each individual university- financial aid eligibility beyond 8 semesters can be quite limited.
Additional details are noted on my financial aid page and many informative blog posts about financial aid and scholarships. If you're ineligible for financial aid, merit aid remains an important option to explore.
THERE ARE MANY CAMPUSES PROVIDING an EXCELLENT EDUCATION offering deep discounts on tuition given your "admissions profile".
If you're settling into your freshman year, planning a transfer application or ready for graduate school planning- please reach out to schedule a consultation.
I wish all  high school and undergraduate students a peaceful and successful 2019-20 academic year.
Warm regards,
Bonnie
Have an awesome day!
Bonnie R. Rabin, Ph.D.
Educational and College Admissions Consultant
South Florida 561.509.0021    Click to View our 
Boca Raton Location
Boulder and Metro Denver Colorado 720.737.9944    Click to view Our 
Boulder
and 
Metro Denver
 Locations
Nationwide  833.MY.ESSAY
Is Your High School Student on Target- Curious, Independent?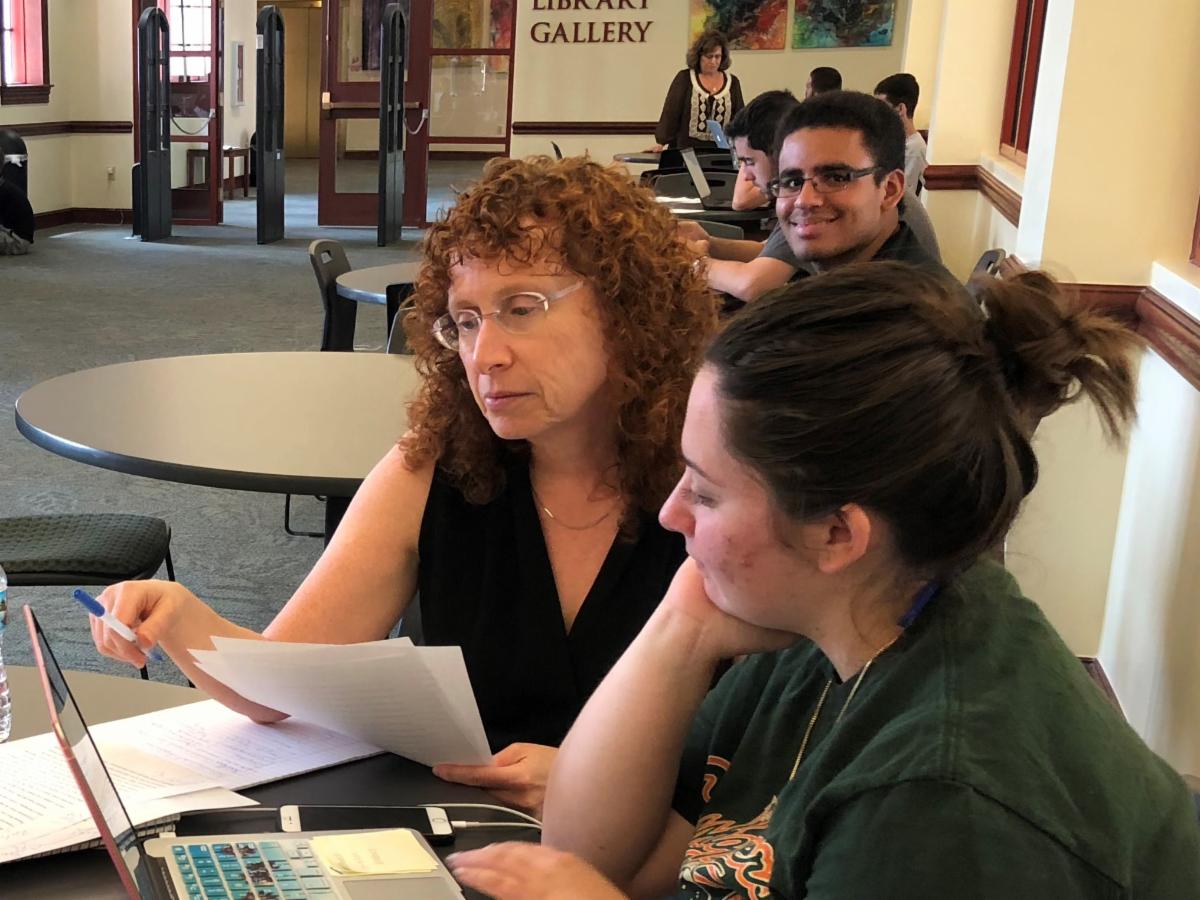 Discover and Explore College Advisor
Bonnie R. Rabin, Ph.D.
Guiding her clients to define and realize educational and career goals.
With over thirty years experience as a university professor and admissions committee member, you're invited to leverage her extensive knowledge of university curricula and career opportunities.
Be inspired!
Pre-College  and Undergraduate Academic Advising!