Greetings Students & Families,
The news of a wide-spread college admissions scandal is exasperating for families who play by the rules–students who work hard at their studies and participate in meaningful and engaging extracurricular pursuits.  Like many of you, what we learned about this tale of greed and desperation raised eyebrows (including those at the FBI) and generated many questions about the educational and social policies that led to this scandal.  I invite you to reach out and continue the conversation with me!
As a Professor Emeritus, I am honored to have the opportunity to provide educational advising to young adults having a wide range of emerging academic interests. I was deeply disturbed by this week's news-but I wasn't surprised.
I know that the families I work with have many choices when it comes to helping their students navigate the confusing world leading to college applications in their senior year and ultimately stepping onto an undergraduate campus prepared for the challenges ahead.
If there's a lesson we all can learn from here, it's how this is not the way to move forward. Students who attempt one way or another of faking their way into college lose the passion that helps make them a great applicant, as well as the passion to turn their college years into a worthwhile growth experience. They feel no pride in their acceptance letters because they know it wasn't their work being evaluated. Worse, they deprive themselves of an opportunity to discover themselves, their interests and their own growth during their high school years.
Here's a look at how to engage in that discovery.
The Advantages of Planning Early:
College Admissions: Reasons to Start Your Planning Early!
Find Your Passion:
In our earlier blog we discussed the importance of discovery.
Because as much of an anomaly as this fraud is, you can bet this conversation is going to reverberate in the administrative offices of universities for a long time to come. We can expect to see these universities placing an ever-heavier emphasis on authentic accomplishment and sincere applications. They will be looking to root out applicants who attempt to game the system.
Having served on college admissions committees and as a current Cornell University Alumni representative, I've evaluated and engaged in discussions with my peers on students' credentials at the undergraduate and graduate levels.  For more about what we consider, please click to view:
What do You Control?   What Do College Admissions Representatives Consider?
That's just one of the reasons I'm proud of the families that seek out the kind of educational and college admissions counseling that helps students find their authentic selves and voices, their real passions and their very worthwhile stories.  As an educator– I am humbled to provide the kind of guidance that assists in the process of self-discovery.
We all want to help our young adults realize their full potential and receive the best possible education to fulfill dreams and perhaps change the world. The fact that you read this far means you're a parent who cares about how to prepare your child to do that very thing. We enroll out 3-year-olds in ballet or soccer lessons or encourage their passion for FIRST robotics or debate competitions in high school. We seek to enrich their lives so that they will contribute to the world they will enter and find meaning and joy in that life.

But we also recognize that this opportunity is not enjoyed equally by all children. College admissions are based on merit, which is why we must encourage students to work hard, develop their talents and give of themselves to others. But not all students have the same resources for showing their meritorious accomplishments to colleges.
And we cannot be naïve and pretend that sometimes college admission practices can seem unfair. "Legacy" admissions still assume a significant role in college admissions decisions.  As rising seniors (Class of 2020) prepare their applications, they will almost certainly be asked whether relatives have attended/graduated from those schools.
Here's an interesting read on that topic:
Legacy Admissions Offer An Advantage and Not Just At Schools Like Harvard
Still, most students accepted to college earned their places by showing their accomplishments – good grades, athletic or artistic talents, immersion in extracurricular activities related to an intended field of study, compassion for others, leadership qualities. Added to this, colleges look for an applicant's vision: How does the story of your experiences, your victories, your setbacks and your passions connect to a potential academic path that fills you with joy and allows you to have an impact on your community. A sense of intellectual curiosity is key.
I invite you to leverage my university experience and help your middle and high school student engage in a process of academic and personal discovery.
UNDERGRADUATE ACADEMIC & COLLEGE ADMISSIONS ADVISING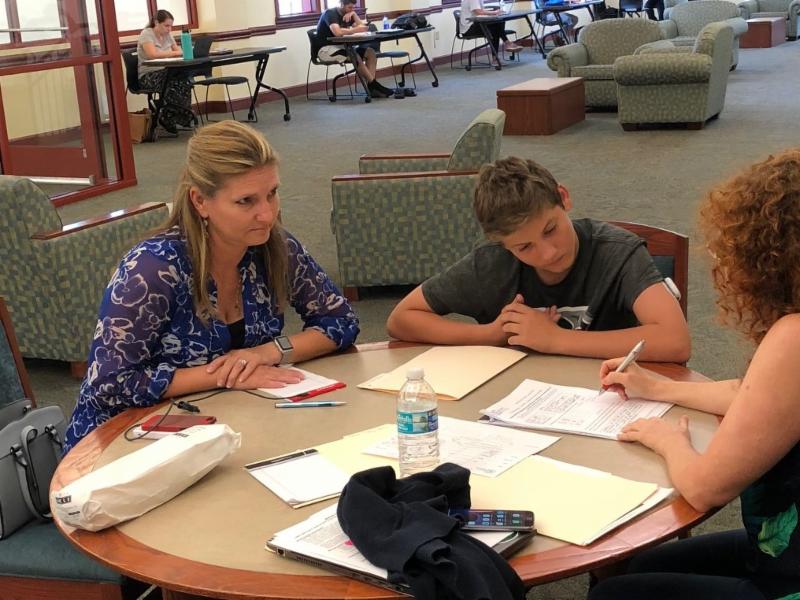 Don't let anyone fool you into thinking that legacy preference, or the outright cheating that appears to have occurred here, takes up most of the freshman spots at the college of your dreams. It simply doesn't. Most students arrive on a college campus on their own steam.
Your character is everything; always take the high road.  These are very likely the values your family has instilled in you and those you will continue to exemplify in all that you do today and tomorrow.  The lesson to be learned here isn't about how to avoid being caught or whether it's still legally or morally OK to make a seven-digit donation to a university.  It's about setting our own path to fulfilled and happy lives that can bring us a sense of genuine pride.
Success is not only measured by college acceptances, but is evidenced by learning, motivation, personal character and the impactful connections young adults assume within "communities".
IS YOUR STUDENT ON TARGET?
Personalized attention: academic advising and college application strategies to empower every student for success!
WHAT IS YOUR STUDENT PASSIONATE ABOUT? NOW IS THE TIME FOR DISCOVERY!
Experiences both within and outside the classroom greatly impact the likelihood of a successful and seamless transition to the undergraduate experience.
If you want to minimize the stress associated with the college application processes,  create your Educational and College Admissions Plan.
Don't follow the crowd nor march through middle and high school without a smile! BE INSPIRED!!
Having an academic niche or a personal passion outside the classroom builds motivation, focus and academic success.
What inspires your student?    
Best Wishes for a meaningful and productive balance of the school year!
Bonnie
Bonnie R. Rabin, Ph.D.
Educational and College Admissions Consultant
Professor Emeritus & Cornell Alumni Representative
561.509.0021