Greetings Students and Families- Especially Our Seniors !
WHEN DO I SUBMIT MY FAFSA AND CSS PROFILE?
To receive financial aid, you must submit a FAFSA. FAFSA is just a form – you don't receive money from FAFSA. It's a form that determines how much your family is expected to contribute to the cost of your education- the link to that algorithm is below- and includes a number of things- primarily your family income as reflected on the tax return and your assets. That form will link to your IRS return – so any ads or emails you see from "scamsters" offering to help you with your FAFSA and shield assets is something to ignore..
FAFSA is secure federal form and process. I will explain what a FAFSA does for you later in this document. FAFSA does NOT give you money- it's just a model that is used to determine how much your family should contribute towards the cost of your education. I'll show you how that value was calculated later in this note. I recently received an inquiry from someone asking me how to "reduce his FAFSA becuase he paid so much in taxes" – he seemed misguided- there's no large pot of federal aid awaiting you to cover the cost of an education There are Pell grants for lower income families — but the primary reason you're completely a federal form is to guide private colleges in determining your "financial need" and then it's up to each college whether to award you grants -that liklihood is based on the desirability of the student – a college might see you as needing assistance and award a parental plus loan rather than a grant. It's their money and they can decide how to allocate and which students are of interest. This is why early college planning matters- because it allows the student to develop clear academic interests and nurture those interests both within and outside the classroom.
First and foremost, there's no rush to submit the FAFSA. Some parents seem to be told by misguided GCs and other parents that doing so gets you more money! That is false! Submitting college applications earlier in the process shows more intent to attend and places you on the radar for scholarship consideration. When you file your FAFSA and CSS Profile has ZERO impact on the amount of money you'll receive – short of being filed LATE/AFTER A DUE DATE – that's an actual problem and can leave you without aid even if eligible (one client a year disregards my warning and is left with zero aid!!!).
WHAT's THE DUE DATE? IT IS NOT OCTOBER 1, 15 or any October date!
If you're a senior '21– you'll be applying for financial aid during the late fall of 2020. Your aid package will be determined by your 2019 tax return and the income earned during that year. Current Sophomores '22, you're applying for financial aid during your senior year – fall of 2021 based on the income noted on your 2020 tax return.
Given our fluid situation -your financial circumstances may change over the 2019-2020 and even into the 2021 year, please reach out to discuss how to alert colleges of the change during and certainly NOT AFTER the financial aid application process.
FAFSA opens for filing October 2020- and depending upon each college's noted due dates, most are in December 2020/January 2021 Relax as there's nothing to do now – although you may have questions about unique or special circumstances which we can begin to discuss and plan for.
**** ACTIONABLE ITEM
Seniors- both student and a CUSTODIAL PARENT should file for a FSA ID – you'll need that FSA ID to complete and sign your FAFSA -it's an attestation that you submitted a true and accurate document.
https://fsaid.ed.gov/npas/index.htm <<<<< THIS is required for both the student and one parent. You can do this NOW. Again – 5 minutes- and please set a password you'll remember and RETAIN the email confirmation as you'll need this when you start the FAFSA later this fall.
SELECTIVE SERVICE REGISTRATION related to Financial Aid!! (YEP!!)
If you are a male within 6 months of your 18th bday—please register for the Selective service. By law, you must register not later than 30 dates after you turn 18. You cannot collect any federally available financial aid (that includes federal or parent student loans) if the student is NOT registered – I know, how is this possible- what about the women—it's 2020? Take it up with your Congressional Rep- for now, male students—register please.
Actionable ITEM:
Parents if you want a task – please start the process of maintaining a list of all colleges where you'll track BOTH THE FAFSA and CSS PROFILE DUE DATEs for PROSPECTIVE STUDENTS (these are DIFFERENT FROM CURRENT STUDENTS.)
If you are a divorced, separated or a remarried/blended family, please note what information will be required from the non-custodial parent if any? I'll be working with you one-on-one to explore where/how specific colleges accept any additional details on unusual circumstances (job loss, high medical expenses, etc.).
HOW IS MY FINANCIAL AID PACKAGE DETERMINED:??
As noted, College Admissions is "need-blind". There is no adverse impact on admissions if you apply for financial aid. Likewise, you don't increase your chances of admission being a full-pay student.
Need Based Aid – Financial aid is awarded directly from the college based on your demonstrated financial need as determined by your FAFSA Estimated Family Contribution (EFC). Details follow below.
THE DETAILS! FAFSA, EFC, CSS PROFILE?!
FAFSA does NOT GIVE YOU MONEY. It is simply an algorithm, which is further impacted by responses to college specific questions on the CSS PROFILE (submitted at the College Board ) and each university can and will do as they please. Institutional financial aid can be in the form of grants, work-study, student loans and parent loans. The mix of that aid is subject to negotiation and defined below.
Completing a FAFSA generates your family ESTIMATED FAMILY CONTRIBUTION. The difference between the cost of attendance and the EFC represents your UNMET NEED. Each college can respond to meeting that need in a number of ways.
I've seen financial aid award letters including $60k of grants where the same student receives a package of $50k in parent and student loans at another university!! What does this tell you about how attractive a college finds your student? What does this tell you about how to target and select colleges? If you want more money– your admissions strategy is to be the top end of the applicant pool. e.g. If your student has a 3.6 GPA, you'll receive more grant money at colleges that seek out students with a 3.3 GPA. In contrast, you may only receive a package of loans even if you are eligible for aid. That variance is why we are careful to select colleges that are known to provide stronger packages for a student that fits your admissions profile.
Your unmet need is certainly subject to negotiation depending on a number of factors that relate relate to the strength of the student's profile, gender, selected major, location to name a few.
The stronger your admissions portfolio and in particular your common application essay(s) where you clearly demonstrate how you will contribute to the institution and show "informed interest", if you're eligible for aid, the greater are your chances of receiving an award letter with more grants and less of an amount in loans.
It is heartbreaking to receive a well-earned acceptance letter only to open the financial award letter and see LOANS rather than grants. Loans are what public universities offer.
As noted, seniors '21 enrolling as freshman in 2021-22, the 2019 tax return will be used to determine your eligibility. The EASIEST way to complete a FAFSA is to utilize the IRS Data Retrieval tool – it's a simple click on the FAFSA form- a little blue button "link to IRS"—DONE.
Some families expect some changes in their 2020 income compared to 2019- especially those with small businesses and/or those who lost a job during the pandemic. If your family income will fluctuate by as much as 10% I'll be working with you to address this issue during the financial aid proces Reduced income from job loss, disability, retirement, business loss etc. should be included on your financial aid application.
The FAFSA not only generates your EFC for colleges to determine whether to provide you with scholarship awards, but the FAFSA is also is used to determine your eligibility for federal grants and student loans.
There's a ton of information on the FAFSA government webpages, and much of it is clear but so overwhelming to find what you might need to know. I provided some basic information to get you started and invite you to contact me to discuss your concerns and unusual circumstances.
***!!!
If you would like to understand the algorithm behind the calculation of the EFC – this detailed government publication explains the process. Pay particular attention to page 9. With proper financial planning early in the high school path, the EFC can be reduced. I can partner with you and your financial planner/accountant to clarify this process.
FAFSA EFC ALGORITHM- THE EFC FORMULA
Nearly all undergraduate public and private universities utilize the FAFSA financial model to determine the extent of private institutional aid awarded, if any. The FAFSA approach seeks to estimate the "Estimated Family Contribution (EFC)" towards the "Cost of Attendance".
The Cost of Attendance for each student is unique to each college and includes tuition, room & board, books, supplies, personal expenses, travel and applicable fees. The range across private institutions is $45 to $70k+.
Keep in mind that this is a budget of sorts, whereby the first two items are billed through the College Bursar and paid directly to the institution. These are the two largest items comprising COA. The remaining items are out-of-pocket expenses leaving quite a bit of room for a student/family to minimize costs with reasonable effort to do so.
The key piece of information we need to focus upon is your family Estimated Family Contribution (EFC).
The difference between the COA and the EFC is your family's Unmet Financial Need.
How a college meets that difference is determined by all the factors noted at the outset of this note: size of endowment, alumni giving, etc and the strength of the student's application.
??? TIP: Thinking of selling your home and downsizing? –
DO NOT DO THIS!
The cash proceeds from a home sale are included in determining the EFC. In sharp contrast, the value of your primary home and retirement savings are both excluded in calculating your EFC! Don't sell your home until after your youngest child starts the senior year of college. A second mortgage has the desired impact on your EFC.
You might ask me if you should take savings and buy a large home – NO, because the question on the FAFSA and CSS Profile asks "year of purchase". The senior year is too late to move savings into home assets for financial aid planning.
Most important- your home is your asset – and financial planners would clearly discourage you from handing your home to your child to pay for college!
DETERMINING YOUR EFC?
Factors that determine an EFC include parental AGI, assets in the student's name, unusually high medical expenses, divorce/separation status and the number of children in college at the same time.
CLICK to Estimate your EFC at FAFSA4CASTER <<<<
Please if you haven't already done so- KNOW YOUR EFC – and then ask whether that is within range or better yet, would you spend the EFC on the university of x or y or z?
You can experiment and plug in a few different scenarios. Maybe you can defer a large bonus or contract? Maybe it doesn't pay for one spouse to work outside the home while the children are enrolled in college. Maybe you can still move assets in the children's name into the parents' name (this is only a strategy for freshman and sophomores– consult your tax accountant for advice).
DIVORCED and FINANCIAL AID: I've worked with several divorced and blended families and I am able to sit down with you one-on-one to discuss your situation so we can ensure that the college choices are supported by what your family can afford and how financial aid works. Regardless of what your divorce decree indicates, the lower earning parent should claim the student as a dependent on the 1040 – thus becoming the custodial parent for FAFSA purposes. I also maintain a database of colleges that request and overlook the non-custodial parent income.
Each situation is unique and I will work on your behalf to minimize the pain of applying for and understanding financial aid. The most important consideration for all students is to ensure you haven't eliminated colleges on your radar given misconceptions about financial aid.Let's get you up-to-speed on some important steps in the college admissions and common application process. Please reach out to schedule your back-to-school College Planning & Admissions Assessment.It is indeed never too early or late to begin taking steps to create and realize your educational goals.CLICK TO SCHEDULE with Dr. Rabin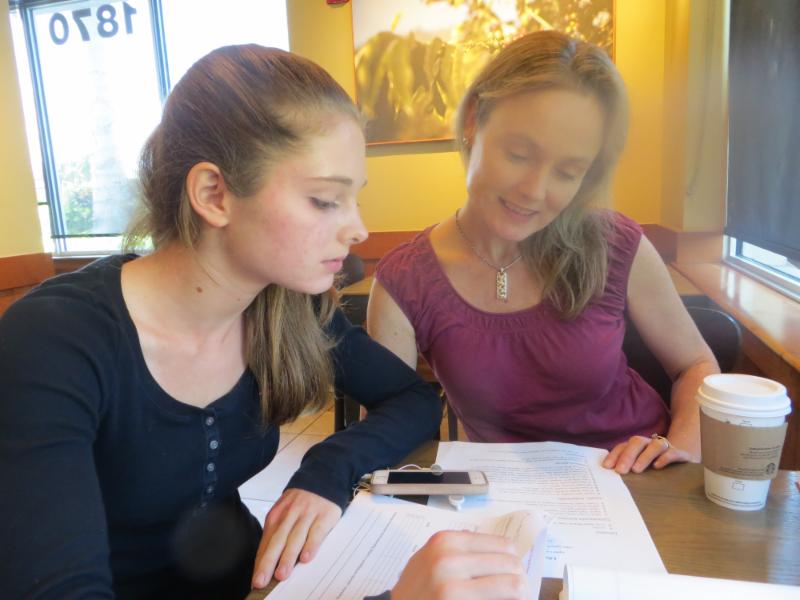 BONNIE RABIN, PHD PROVIDES ONLINE ACADEMIC ADVISING, COLLEGE COUNSELING AND COLLEGE APPLICATION GUIDANCE TO STUDENTS IN HIGH SCHOOLS THROUGHOUT THE UNITED STATES.
Our current and former clients reside in locations as diverse as Metro NYC, San Francisco, Boston, D.C. and Surrounding Communities, Westchester County, Boulder, Miami, Philadelphia, Chicago, Austin, Los Angeles, Central NY (Syracuse, Rochester, Ithaca), Charlotte, Denver, Boca Raton, Minneapolis and many more.
I invite you to schedule an online college counseling session with me to begin your college major research, shape your balanced list of colleges and being your Common Application process and college essays.
Our Recent College Acceptances Include:
Princeton, Brown, Dartmouth, Carnegie Mellon, Cornell, U. Michigan, Northwestern, Georgia Tech, University of North Carolina, Vassar, NYU, Bowdoin, Wellesley, Emory, U.Illinois, Notre Dame, Rice, University of Chicago, Washington University (WUSTL), Drexel, Tulane, Brown, Purdue, Swarthmore, SCAD, Ohio, Georgetown, Hamilton, Reed, Miami, Johns Hopkins, University of Florida, University of Arizona, Penn State, Villanova, Northeastern, SUNY-ESF, St. Johns, Embry-Riddle, Colgate, Fordham, Columbia, Barnard, Syracuse, Swarthmore, Pittsburgh, Dickinson, Colorado, Rensselaer Polytechnic Institute, Howard, Fordham, SUNY Stonybrook, Duke, Case Western, Rochester Institute of Technology, Parsons, Virginia Tech, Boston U., Hobart & William Smith, Claremont Mckenna, Davidson, Westpoint, Gettysburg, Amherst, Temple, Denison, Howard, UT Austin, SUNY-Binghamton, Hamilton, George Washington, American, Indiana, SMU, James Madison, UF, and many more
Bonnie R. Rabin, Ph.D.
Educational and College Admissions Consultant
Professor Emeritus – Cornell Alumni Rep
In-Person South Florida(Boca Raton) and
Metro Denver & Boulder Colorado << Please view our local pages for high schools and communities of service)
Virtually – Wherever You Are
Florida: 561.509.0021
Colorado: 720.737.9944
Nationwide: 833.MY.ESSAY
Juniors– Class of 2021-
FINISH YOUR COLLEGE ESSAY BEFORE SUMMER BREAK!