Greeting Students and Parents
FINANCIAL AID – – IS OUR FAMILY ELIGIBLE FOR FINANCIAL AID? HOW TO PAY FOR COLLEGE?
Are there "financial safeties"? The short answer is YES!!
FINANCIAL AID ELIGIBILITY
Many families make the mistake of concluding they aren't eligible for financial aid and/or don't bother to work with a professional to help understand and apply for and appeal financial aid award letters. My clients have been successful appealing their financial aid awards – that process of appeal occurs in the spring of the senior year AFTER you're accepted.
Even if you aren't eligible for financial aid- I want to talk also about the process of "discounting". Many universities offer substantial amounts of "merit-based" scholarships- or "discounting" when they are interested in YOU.
MISTAKE TO AVOID:
The Florida (and other state) Pre-Pay trap: Don't limit yourself to in-state public institutions because you participated in Florida Prepay. Your financial circumstances may actually favor out-of-state private college attendance. You are encouraged to schedule a meeting to discuss how we shape your balanced college list when it comes to paying for college. If you're eligible for financial aid – then it may be less pricey to attend a private university than pay within-state public tuition. Public universities don't have much in the way of financial aid to disperse.
As for receiving financial assistance from an out-of-state public university – you should assume there is little to no assistance. Very few public universities will offer any substantial financial assistance to out-of-state residents that would create a comparable financial offset to your own within-state public university. That said, we do know that some public universities are among the finest educational experiences within the US.
Your educational aspirations are important in integrating financial costs into the larger picture of selecting a college to attend.
Many (not all, and certainly not the Ivy League) Universities want to attract you to attend their campus by offering lucrative merit scholarships.  Based on your academic and extracurricular record– there is quite a sum of merit-based assistance for targeted students. A 4.0 and 1550+ SAT are awesome but insufficient to receive a merit package at an Ivy League or highly selective university that focuses exclusively on need-based vs merit based assistance. You essay and extracurriculars determine if you are one of the students earning a merit scholarship. All applicants for prestigious scholarships have awesome GPA and test scores. That's why I'm always pushing the idea of "finding joy/finding a passion" and getting involved in those exact joyful experiences throughout high school.
HOW MUCH CAN WE AFFORD TO PAY FOR COLLEGE?
Based on whatever "list" of college rankings appeals to you (recall, I don't favor using lists at all), I often ask new clients and ongoing clients to consider a simple exercise. There is a continuum of the most highly selective to least selective colleges– also reflecting the quality of education provided. Somewhere on that linear progression, slot in your state's public university flagship and all the remaining colleges (reach, match, safety) on your current balanced-short list.
Now unlike buying a car, a house, a restaurant meal, or a host of other purchases – I need you to understand and accept that the published price tag for college tuition shows little if any price variation reflecting the rankings or quality of education. Literally, the most selective colleges have very similar price tags to "average" or even "below average" universities. Recognize why that occurs?!
Aside from the operating costs being similar across most colleges (the largest part of their budget are faculty and staff salaries)– imagine for a moment if prices really did reflect the quality- which colleges would want to advertise their lessor quality by a lower price- who would want to enroll?! This is nothing new — old news.
Looking at that continuum of colleges you just placed on a horizontal line—you can see the price tag of your public university – is that something you can afford?
Even if you can afford that amount– do you want to pay for what you will receive? What if the student is not accepted to the best within-state public university –where would you want to attend? How much in tuition can your family afford —COMFORTABLY?
This amount might originate either from your college savings and/or through the ongoing household budget. Whether that amount is $10k, $30k or $70k – let's switch the conversation to what college financial aid officers think you can afford relative to what you think you can afford so you can understand how the process of financial aid is going to work and also use this information to shape your balanced list of colleges.  Stay with me….
ACTIONABLE ITEM:  WHAT DO FINANCIAL AID MODELS INDICATE YOU CAN AFFORD?
Please head to 
www.fafsa4caster.gov
 –it is a non-binding estimating tool to explore what your family EFC (more about that below) might be.
THE Website is private- takes you 5 minutes to complete… stop here, and go through that process….. If short on time, here's an accurate hypothetical.
Rough rule of thumb: Household earnings $150k, EFC is $30-$35k depending on savings.
I'm guessing at this point- your assessment of what you can afford and the FAFSA model are way out of sync.  RIGHT?!!
Shocking amounts of money are revealed in that model. For most families – FAFSA generated an annual expected family college contribution that often exceeds what you pay for your mortgage and perhaps even your annual retirement savings. Stay with me…..
Next: Looking at your diagram of colleges– there's a price point break on that line isn't there? There's a dollar value that you can comfortably manage. In addition- there's two conflicting data points here. First, you already know that you're not going to pay at any price to attend the University of "FILL IN BLANK" but you may find a way to pay (if accepted) to attend the University of "FILL IN THE BLANK".
EVERY FAMILY HAS A SWEET SPOT FOR EVERY PURCHASE- AND COLLEGE TUITION IS NO EXCEPTION BECAUSE IT'S AN INVESTMENT AND SHOULD BE THOUGHT OF MUCH THE SAME AS ANY OTHER MAJOR PURCHASE.
While you might be unable to afford the full price of the most selective colleges, chances are you'll figure /manage a way to pay the added cost beyond any financial aid received for those "special colleges" – investments in education that more than pay for themselves in short-term summer internship opportunities, higher quality education, higher exception rates to graduate school and overall, a lifetime of more opportunity and higher earnings (the data on all these points is readily available for every university). That is not to say there are individual success stories for students who attend much less selective universities- but a higher quality education is always a goal.
So looking at what you can comfortably afford and what colleges suggest you can afford—there are still exceptions.
Would you somehow manage UPenn-Wharton for your aspiring business major? How about MIT for your aspiring engineer? Most talented Musical Theater major ever– NYU ?  How do you feel about the Humanities – will you pay $75K for your student to earn an undergraduate degree in a field with lower than average job prospects? These are all difficult choices – but it a conversation to have prior to selecting colleges where you'll apply and attend and for students to appreciate the financial costs and commitments that parents are assuming by investing in their education.
How do you feel about paying for a second year of tuition if the student is on academic probation– should we ever pay students for grades or penalize them for poor performance? The latter are individual parenting choices and guidelines about academic expectations may be part of your family conversation.
1) YOUR FAMILY CAN AFFORD IN COLLEGE TUITION
2) ARE EXPECTED TO CONTRIBUTE (FAFSA EFC) AND
 3) ARE WILLING TO CONTRIBUTE
WILL HELP YOU DETERMINE WHERE TO APPLY- ESPECIALLY IN LIGHT OF THE COST OF YOUR BEST PUBLIC UNIVERSITY AND THE UNCERTAINTY OVER OUR ECONOMY FOR THE PAST 18 MONTHS. IF YOU WERE ACCEPTED TO MIT, HARVARD, PRINCETON, BOWDOIN OR WHATEVER DREAM SCHOOL IS ON YOUR RADAR—HOW DO YOU COMPARE THAT AGAINST THE COST OF WITHIN-STATE PUBLIC UNIVERSITY TUITION?
WILL YOU ATTEND A LESS SELECTIVE UNIVERSITY FOR A DEEP DISCOUNT?
There are numerous colleges that will welcome your student at a significant discount- perhaps even "free"—how far down that continuum of selectivity feels "comfortable" should you receive an acceptance to a university that is beyond your financial comfort level much further on the "educational selectivity" continuum.
ACTIONABLE ITEM:
Every family should have at least 1 to 2 financial safeties that you would consider as viable alternatives to your best public university and/or an acceptable option.
We have ZERO prediction accuracy on the state of our economy for the balance of 2021. That's a hard fact.
Every student should have a balanced list of universities – reach, match and safety- but having a much loved "safeties" – those institutions that we KNOW the student finds attractive while offering a very appealing package of merit aid reduces a ton of stress in the college application process. Those should be on your radar and the first college applications you submit.
Have an awesome day!
Bonnie R. Rabin, Ph.D.
Educational and College Admissions Consultant
South Florida 561.509.0021    Click to View our 
Boca Raton Location
Boulder and Metro Denver Colorado 720.737.9944    Click to view Our 
Boulder
and 
Metro Denver
 Locations
Is Your High School Student on Target- Curious, Independent?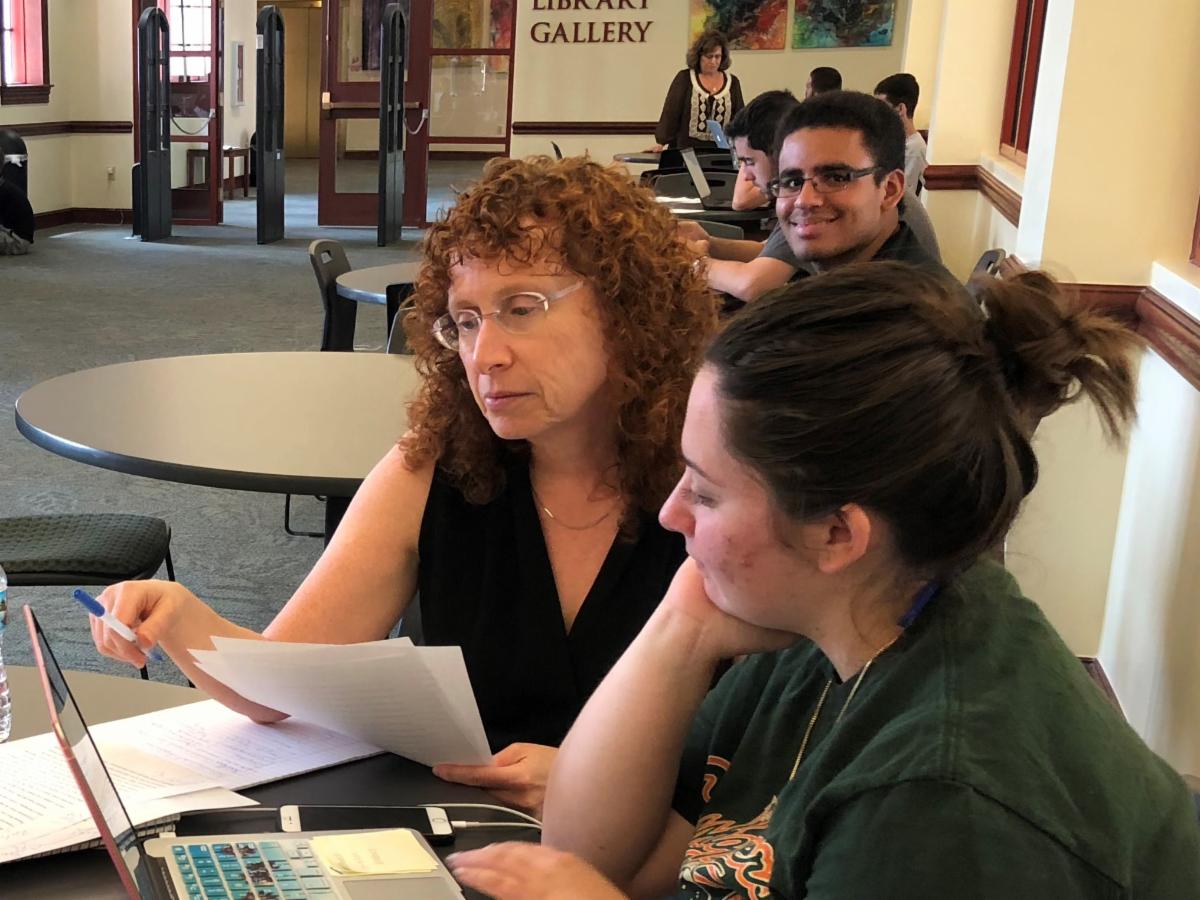 Discover and Explore College Advisor
Bonnie R. Rabin, Ph.D.
Guiding her clients to define and realize educational and career goals.
With over thirty years experience as a university professor and admissions committee member, you're invited to leverage her extensive knowledge of university curricula and career opportunities.
Be inspired!
Pre-College Academic Advising!
Congrats!!!  A SAMPLE of our Recent College Acceptances Include:
Congrats!!! A SAMPLE of our recent College Acceptances Include:
UC Berkeley, Carnegie Mellon, UPenn, Princeton, Cornell, U. Michigan, Northwestern, Georgia Tech, Barnard, Columbia, Smith, Stanford, University of North Carolina, Vassar, Brown, Bowdoin, Wellesley, USC, Emory, U.Illinois, Notre Dame, NYU, Rice, University of Chicago, Washington University (WUSTL), Drexel, Tulane, London School of Economics, Purdue, Swarthmore, SCAD, Ohio, Georgetown, Hamilton, Reed, Miami, Johns Hopkins, University of Florida, University of Arizona, Penn State, Villanova, Northeastern, SUNY-ESF, St. Johns, Embry-Riddle, Colgate, Fordham, Columbia, Barnard, Syracuse, Swarthmore, Pittsburgh, Dickinson, Colorado, Rensselaer Polytechnic Institute, Howard, Fordham, SUNY Stonybrook, Duke, Case Western, Rochester Institute of Technology, Parsons, Virginia Tech, Boston U., Hobart & William Smith, Claremont Mckenna, Davidson, Westpoint, Gettysburg, Amherst, Temple, Denison, Howard, UT Austin, SUNY-Binghamton, Hamilton, George Washington, American, Indiana, SMU, James Madison, and many more!…
WRITE YOUR STORY!