Greetings Students and Families,
This is part II of our Spring series on Financial aid and Scholarships.
LITTLE KNOWN FACTS ABOUT FINANCIAL AID AND SCHOLARSHIPS….
As an experienced university faculty and admissions committee member, let's begin with a discussion of how colleges determine your financial aid award and some tips to increase your chances of receiving financial aid and scholarships.
Need Blind College  Admissions
Nearly all colleges practice "need blind admissions" meaning admissions decisions are unrelated to your request to be considered for financial aid. That said, university budgets and financial aid awards are built around "discounting" – a practice of offsetting a college's annual financial aid budget with the dollars received from full paying students to minimize the impact on the institution's endowment.
As a full-paying family, you may be surprised to know that as much as a quarter to a third of your tuition dollars are used to award financial aid to another deserving student with demonstrated need (as determined by their FAFSA).  We know for certain that many colleges are seeing some budget shortfalls at the moment as families and alumni donated less in the past year. We also know that international students in many universities are a significant component of full pay tuition revenue– yet, borders were restricted to travel from many countries. This is a fluid situation impacting financial aid and university operating budgets in the short-term.
The Common App and Financial Aid:
If you're a senior '23 you'll be completing your Common App 2022-23 sometime this fall. While the FAFSA will open in October- please don't rush — and please do NOT SUBMIT IN BATCH -you do not want each college — especially your most selective colleges knowing the safeties or less-selective colleges on your radar– more below.
*** If you're applying Early Decision- submit the FAFSA only to the one college. Then return and "REVISE" to add your other universities.
As noted, there's a question on the Common App – asking if you want to be considered for financial aid. Please indicate "yes" to the question on the Common App regarding "need based aid" – there is no impact on your admissions- we refer to this as "need blind admissions" .
HERE'S SOME REALLY GREAT NEWS– !
Prior to the pandemic, we continued to see "Discount Rates" Hit Record Highs
 as 
Private Colleges Set New Record on Tuition Discounts
. In Spring 2020 and 2021- this was challenging as colleges didn't realize their enrollment targets and in fact freshman enrollment across the US had declined in fall 2021 at many campuses. 2021 included high-pressure marketing for students (beyond the top 50 colleges and universities- where costs have no impact – there are as many as 10 qualified students for every space in the freshman class) and yield results were in fact back to normal- meaning funding was somewhat less constrained for our seniors '22 .
What is the real cost of a four-year undergraduate degree?
The short answer is to avoid sticker price misconceptions.
The key take away is that- early academic planning increases your chances of acceptances that will include scholarship assistance. If you're a more attractive applicant- there's more scholarship / merit-based aid. Knowing what's expected, you can build a solid college admissions plan at the outset of high school. As noted, College Admissions is "need-blind".  There is no adverse impact on admissions if you apply for financial aid. Likewise, you don't increase your chances of admission being a full-pay student.
There are two sources of funds:
Need based financial aid
and
 Merit based Scholarships.
Financial assistance can originate with the college or from a third party (federal/state governments or private scholarships). Need Based Financial aid is awarded directly from the college based on your demonstrated financial need as determined by your FAFSA Estimated Family Contribution (EFC).  Details follow below.
A number of privately funded merit-based scholarships are also need-based, including the prestigious 
QUESTBRIDGE
  full scholarship for students with demonstrated financial need and outstanding academic achievements. Low income families are encouraged to explore Questbridge. Applications begin during the Junior year!!
Merit Based Aid – These awards are based on a competitive review of the student's academics, extracurriculars, competitions, athletics, community service, etc. The awards are unrelated to financial need (or lack thereof). Merit aid is awarded by colleges and also by private scholarship funds.
There are scholarships for a variety of majors and these are VERY competitive.
Ron Brown Scholarship is an example of a private scholarship.
Some competitive colleges offering full-rides include Penn State, Miami, Boston, Washington University, Emory, Vanderbilt, Northeastern, Drexel
The chances of receiving a lucrative scholarship increase with higher GPA and demonstrated research/competition in your intended field of study. This is just one of the reasons why I encourage students in 8th-10th grades to focus on setting their educational goals early and taking steps to realize these goals. Earning a 4.0 GPA is impressive but insufficient to earn prestigious merit based awards! Scholarships are given to students with impressive accomplishments both within and outside the classroom. DO YOU HAVE A COLLEGE ADMISSIONS PLAN?
Private colleges will offset  and reduce some or all of any grants awarded by the amount of external scholarships received.
WHAT WILL MY FINANCIAL AID PACKAGE INCLUDE?
It pays to be a "stellar" (Interesting) student!!
Let's be crystal clear. While admissions is need-blind, once admitted, if you are eligible for financial aid (Cost of Attendance less your Estimated Family Contribution -COA-EFC= Unmet Need), institutional financial aid can be in the form of grants, work-study, student loans and parent loans.
The mix of that aid is subject to negotiation. I've seen financial aid award letters including $60k of grants where the same student receives a package of $50k in parent and student loans at another university!! What does this tell you about how attractive a college finds your student? What does this tell you about how to target and select colleges?
If you want more money– your admissions strategy is to be the top end of the applicant pool. e.g. If your student has a 3.6 GPA, you'll receive more grant money at colleges that seek out students with a 3.3 GPA. There's no differences in Ivy League schools- aid packages are fairly consistent across-the-board and every accepted applicant is stellar.
Again, have the conversation before you apply. If you aren't eligible for aid or the partial aid you'll likely receive based on EFC estimates isn't acceptable- don't apply to a college you cannot afford. It's heartbreaking to hear of a student's acceptance to a highly selective program only to have to decline the offer. Parents should understand what these models reveal and if this isn't affordable- discuss this with your teen before application season begins.
COLLEGE APPLICATIONS & FINANCIAL AWARD LETTERS:
Your unmet need is certainly subject to negotiation depending on a number of factors that relate to the strength of the student's profile, gender, selected major, location to name a few.
The stronger your admissions portfolio and in particular your common application essay(s) where you clearly demonstrate how you will contribute to the institution and show "informed interest", if you're eligible for aid, the greater are your chances of receiving an award letter with more grants and less allocated to your unmet need in the amount of student loans.
It is heartbreaking to receive a well-earned acceptance letter only to open the financial award letter and see LOANS rather than grants.  Loans are what public universities offer.
KEY POINT!!  Please begin your Educational and College Admissions Planning EARLY in High School. Setting goals and building your strategic plan to allow each young adult to explore emerging academic interests and leverage personal interests will set you apart from tens of thousands of equally qualified and essentially identical applicants.   
College Planning- Don't Leave It to "CHANCE"
 ,but begin your planning early.
Have an awesome day!
Bonnie R. Rabin, Ph.D.
Educational and College Admissions Consultant
South Florida 561.509.0021    Click to View our 
Boca Raton Location
Boulder and Metro Denver Colorado 720.737.9944    Click to view Our 
Boulder
and 
Metro Denver
 Locations
Is Your High School Student on Target- Curious, Independent?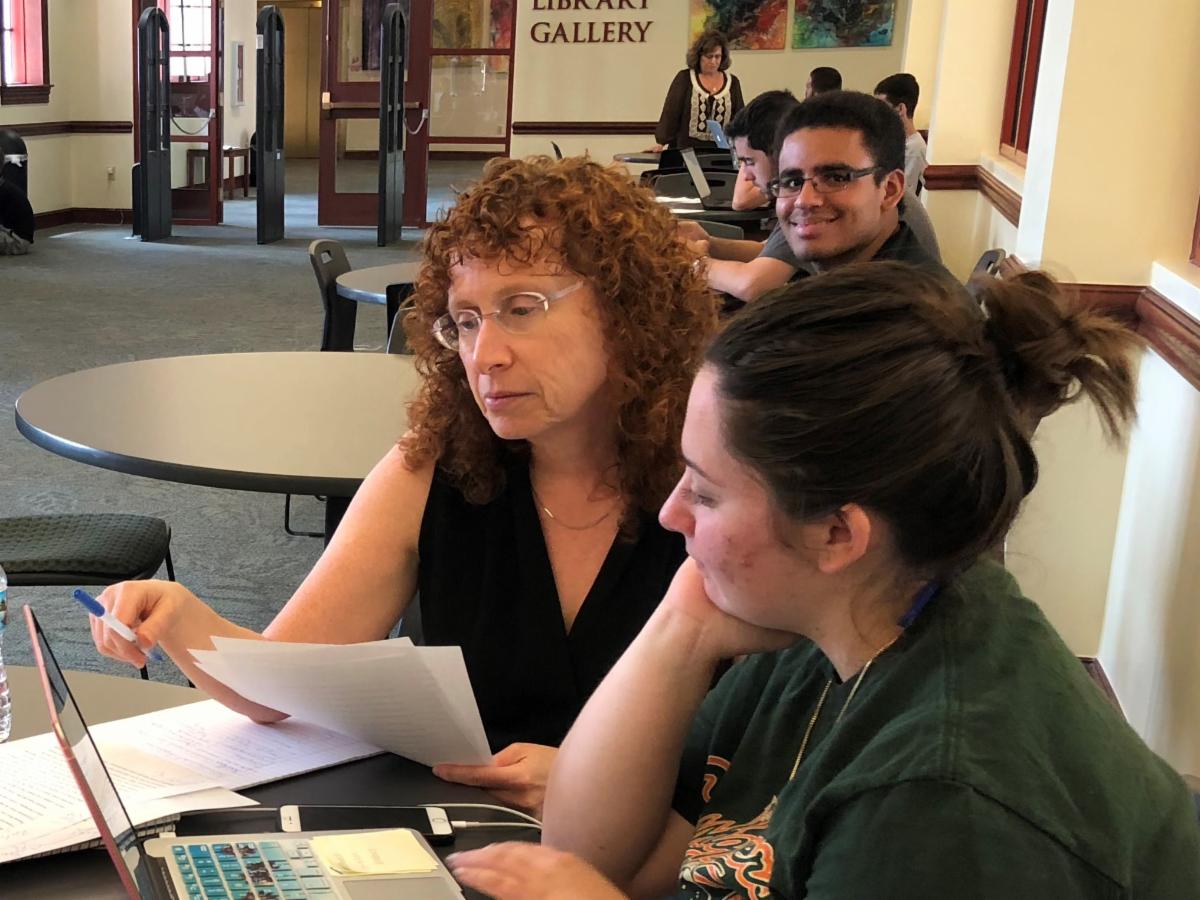 Discover and Explore College Advisor
Bonnie R. Rabin, Ph.D.
Guiding her clients to define and realize educational and career goals.
With over thirty years experience as a university professor and admissions committee member, you're invited to leverage her extensive knowledge of university curricula and career opportunities.
Be inspired!
Pre-College Academic Advising!
Congrats!!!  A SAMPLE of our Recent College Acceptances Include:
Congrats!!! A SAMPLE of our recent College Acceptances Include:
UC Berkeley, Carnegie Mellon, UPenn, Princeton, Cornell, U. Michigan, Northwestern, Georgia Tech, Barnard, Columbia, Smith, Stanford, University of North Carolina, Vassar, Brown, Bowdoin, Wellesley, USC, Emory, U.Illinois, Notre Dame, NYU, Rice, University of Chicago, Washington University (WUSTL), Drexel, Tulane, London School of Economics, Purdue, Swarthmore, SCAD, Ohio, Georgetown, Hamilton, Reed, Miami, Johns Hopkins, University of Florida, University of Arizona, Penn State, Villanova, Northeastern, SUNY-ESF, St. Johns, Embry-Riddle, Colgate, Fordham, Columbia, Barnard, Syracuse, Swarthmore, Pittsburgh, Dickinson, Colorado, Rensselaer Polytechnic Institute, Howard, Fordham, SUNY Stonybrook, Duke, Case Western, Rochester Institute of Technology, Parsons, Virginia Tech, Boston U., Hobart & William Smith, Claremont Mckenna, Davidson, Westpoint, Gettysburg, Amherst, Temple, Denison, Howard, UT Austin, SUNY-Binghamton, Hamilton, George Washington, American, Indiana, SMU, James Madison, and many more!…
WRITE YOUR STORY!