Greetings Students and Families!!
Sustaining Direction & Recharging!
Regular readers of my newsletters know how often I stress the importance of students developing personal learning strategies that lead to intrinsically motivated young adults.  Experiences both within and outside the classroom greatly impact the likelihood of a successful and seamless transition to the undergraduate experience.  Confidence creates success!
At back-to-school conferences my students set plans in motion to continue to explore and expand their involvement in extracurricular pursuits to bring joy and provide ongoing opportunities to build upon current strengths and interests.
Every academic year is an opportunity for further exploration into academic areas of interest and strength, as well as enhancing existing learning and time management strategies.
Parents can help students continue to find their passions both within and outside the classroom.  
Good grades are essential, but they don't supplant the importance of having a fulfilling and connected life both at school and within "communities".
  Please reach out to schedule your Educational & College Admissions Assessment  561.509.0021  
CLICK to CONNECT
Establishing a daily routine, reviewing  class notes, connecting with teachers, using online support resources (see my earlier blog for recommendations), interacting with peers and knowing when to ask for help are essential to ongoing academic success. Also, managing "stress" is essential to a student's emotional and physical well-being. If your student is having trouble finding a personal rhythm, I can help!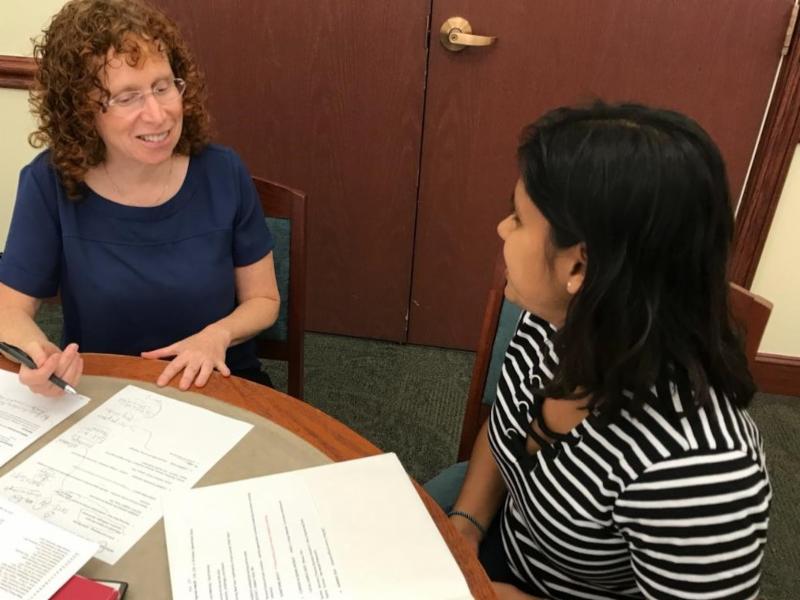 How is your student's Educational and College Admissions Plan unfolding?
This past week my conversations with several intelligent & highly motivated young students studying at different high schools across the East Coast were heart-warming.  They have a variety of interests including  engineering, songwriting, the environment, genetics & molecular biology, educational policy, and several students aspire to pursue an undergraduate career in "science" leading to a career in medicine.   As a former admissions officer and current Cornell Alumni local representative, It was clear why each student would thrive  as an undergraduate. It wasn't because of an impressive GPA or test scores….
STANDING OUT!
Not only were these students intelligent, but I knew this group of young adults would be successful in their admissions and academic paths ahead because of their kindness, and they are all passionate about interests outside the classroom, connected to their community, and each has a clear vision.  These students, now seniors are comfortable being themselves and their confidence is appropriately evident.  Their activities resume isn't  forced nor planned– but had emerged from guided self-direction and a heartfelt desire to lead an impactful and joyful life.   The STUDENTS had assumed responsibility for their own path.
SECOND QUARTER RECHARGE
The start of  a new quarter is a time for reflection and adjustment.  No student should assume that their first quarter grades dictate the path for the remainder of the year.  Whether there's a rhythm that may be working well or needing an adjustment, it's time to cast a wider and/or deeper extracurricular net –both formal and informal to further explore emerging and existing interests and strengths.
Young adults  have long days and they work hard at school. There should be opportunities to find joy and direction in their personal lives. It is my hope that your student's passion for learning and involvement in activities outside the classroom continues throughout the school year.
Don't Just Learn– 
EXPLORE  & ROAR!!
In addition to the many extracurricular organizations offered at your high school (DECA, FBLA, FIRST Robotics, Speech/Debate, NACLO, HOSA, Model UN, Math Competition, Young Arts, Band/Orchestra, Hackathon & yes,- even Gaming!), there are many ways for students to explore potential interests BEYOND FORMAL HIGH SCHOOL options.
TED TALKS Is an amazing resource of quality short videos on an array of topics.  The search engine has no limits!
Conversations with family & friends about their work. Students ever wonder why a parent might appear "grumpy"  some evenings?  Ask mom/dad about their work and interactions with others. How did they solve a problem?!
Attend Community Lectures at local universities. These are often open to the public.
EXPLORE YOUR PASSION – FIND YOUR NICHE THROUGH READING!!!  YES READING!!!
The best way to do so is through reading and subsequent hands-on experiences. When I was in high school and away at college, my dad used to share newspaper clippings related to my field of study (yes, pre-internet 1980s). These were always thought provoking and appreciated. Today, it's really easy for parents and teachers to share articles of interest with young adults. My clients can tell you about some of the pieces I've shared via text aligning with their emerging interests bringing a balance of perspectives outside of their school assignments.

If a student has an emerging interest in business, economics or finance, learn more about the field and its core concepts through readings such as The Economist or Forbes. Extracurricular pursuits might include assuming a treasurer role in a club.
Students interested in medicine or the sciences broadly defined might read Popular Science or Discover and perhaps try the monthly experiments at home. The Center for Disease Control and the FDA also have really informative pieces that are easy to digest.
Students interested in the arts or writing, or history should explore a variety of literary magazines and essay competitions.
By reading, not only will learn more about potential areas of interest but you will become a better writer. Observe vocabulary, write styles, sentence construction and how writers convey a message.
Universities including Stanford, Carnegie Mellon, Wake Forest and Columbia to name a few are examples of colleges asking about readings outside of class on the college application. It's fine to explore works of fiction and non-fiction alike. If you're bilingual-read literature written in another language!
Another benefit of reading is that it can be a great way to relax and unwind. Keep in mind, reading on a blue-light device is not a way to unwind before sleep.
ADMISSIONS TIP: EXPLORE AND DISCOVER 
If you want to minimize the stress associated with the college admissions process, build your Educational and College Admissions Plan as early as 8th grade! This will allow you to carefully select classes and extracurricular opportunities to encourage academic and personal exploration preparing you for success as a high school and undergraduate student.
Don't follow the crowd nor march through high school without a smile ! BE INSPIRED!!
What is your student passionate about?  Now is the time for discovery!  
In the past few weeks I've been contacted by both anxious and confident parents of high school students getting ready for the college admissions process ahead in a year or smack in the middle of their applications as current seniors. I've also spoken with parents of middle school students  about to begin high school expressing concerns about taking too many or too few AP or AICE courses and wondering whether their GPAs should be boosted through Dual Enrollment (see early newsletter addressing Dual Enrollment courses).
A Strategic Educational plan not only includes a curriculum mapping of challenging, relevant and manageable courses.  A plan that balances academic experiences with meaningful student selected extracurricular activities leads to confident, mature, self-directed and grounded young adults. 
Admissions staff look favorably upon students with a sustained commitment to activities throughout all four years of high school.
There's a project for everyone!
STEM (Science, Technology, Engineering, Math) students can consider Do-It-Yourself (DIY) projects and ideas for potential entry into science fairs this year.
At your school consider:  MU Alpha Theta (Math),  NACLO (Computational Linguistics Competition), FIRST Robotics,  Science Olympiad, TSA or the Google or Intel Science Fairs.
ARTISTS and MUSICIANS should be working on developing their portfolio and honing skills in disciplined creative work thinking ahead to competitive local venues such as Young Arts.
BUSINESS/LIBERAL ARTS – Keep an eye towards writing an essay you can enter into any number of local and national essay competitions (business, history, etc.)  sponsored by a variety of organizations. Need suggestions?  Start a blog on a topic you're passionate about and share your best Blog pieces within school publications.
Another meaningful and joyful way to spend your time as well as demonstrating your passion about your interest is to become a volunteer mentor for younger students. There are many opportunities to do so through tutoring, religious organizations, middle school clubs, sports teams and even starting your own business assisting others to learn more.
College Major Research:
For students in 10th-11th grades, this is also the time to start the process of research on a potential college major.  My unique approach to academic discovery begins with guided exploration of an undergraduate curriculum in a few potential majors. The goal is for students to learn how to independently  evaluate the unique features of an academic program.  This process includes reading curriculum maps,  course descriptions and learning about the faculty, and research opportunities within a department.   Notice, the process of discovery does NOT begin with college visits.
Please reach out to schedule your Educational and College Planning Assessment.
My goal is to build your student's educational strategy to leave each student feeling empowered about their success!
Do you have a strategic educational plan for success?

Your Educational Plan Includes:
A challenging "synergistic" high school curriculum 
Sustained and directed extracurricular activities
Meaningful Experiences and Connections
Student directed research to create a list of target colleges and scholarships 
Results:  
Motivated, Self-Directed & Confident Young Adults Ready to Succeed!
Bonnie R. Rabin, PhD
Educational & College Admissions Consultant
561.509.0021
Be Inspired!
Bonnie R. Rabin, Ph.D.
Professor Emeritus, Cornell University Alumni Representative
Educational & College Admissions Consultant
561.509.0021