Greetings Students and Families,
If you're a regular reader of my blogs and newsletters, you've been following my tips on handling school closings, extracurricular activities on pause,  revised AP/SAT/ACT exams summer cancellations and closed college campuses during COVID-19- —all of this leaving students and parents wondering about the impact during this uncertain time on your high school student's educational goals and college admissions. Rising Seniors!! – Class or '21 are ready to begin their college applications  and should have questions about how all of these changes impact the process and chances of college acceptances.  Please click to schedule your College Admissions Planning and Year-End Assessment with Online College Advisor Bonnie Rabin, PhD
This blog explores the new  section of the
2020-21 Common Application —  OPTIONAL COVID-19 Prompt
The 2020-21 college application cycle is likely to look very different.  The College Board has described their intentions about the new Common App optional section, for the 2020-21 application — the primary goal in providing students with an opportunity to discuss how they have been affected by COVID-19. You may be wondering whether this section is one to respond to on your college application in addition to all the other essay prompts already in place.
Previously, I've written several blogs and shared videos about the importance and details your provide about yourself within your
COLLEGE APPLICATION ESSAYS on YOUR COMMON APPLICATION
You can access my earlier resources here
 College Applications & College Essays Part I – Eye Catching Common Application Core Essays
and
Part II- Writing Your College Specific Supplemental Essays
Or VIEW
Let's look at the 2020-21 Common App's new and optional COVID-19 ESSAY PROMPT
What's APP?
The new COVID-19 section allows students to explain how the pandemic shaped their personal and academic lives.
Here's the  actual prompt that students will find:
Community disruptions such as COVID-19 and natural disasters can have deep and long-lasting impacts. If you need it, this space is yours to describe those impacts. Colleges care about the effects on your health and well-being, safety, family circumstances, future plans, and education, including access to reliable technology and quiet study spaces.
In WHAT DO COLLEGE ADMISSIONS OFFICERS CONSIDER, I spoke about the importance of holistic admissions and the essential role college essays assume in sharing more about the individual applicant. This new and optional prompt is important because it establishes a unique space for each student to go one step further and explain anything that might be relevant for admissions officers to consider when evaluating their 2020-21 application. By providing a separate and optional question,students have the balance of their application to share the stories that enable colleges to get to know each student apart from the COVID-19 setting.
Common Application COVID-prompt vs. Personal Statement/Core Essay:
In previous blogs about COVID-19 and college applications, I noted that it's probably not a great way to present your best face as an applicant using the required Common App personal statement to discuss COVID-19, as so many other students might do so.  Why do you want your subject matter to resemble the content provided by many other applicants? You don't –and you want to stand out!
Your personal statement – or core essay is your opportunity to inform admissions officers about aspects of your unique identity/persona that aren't revealed in any other section of your Common Application.  COVID-19 is recent – and while it for some students this chapter of your life may have been tragic on a personal level- for the vast majority, the past 3 to 6 months were likely defined by disruption and adaption and therefore aren't likely the best topic for your Common Application personal statement.  For this reason- I'm thrilled though that the Common App has created this dedicated and optional COVID prompt.
COVID Prompt- How to Reply? Should You Reply?

The question is optional and it is set to appear in the Additional Information section of the application.  You may already know there's another "Additional Information" question – I often recommend using this section to present research abstracts, provide more space for significant awards (as the Common App leaves space for only 5 –Hint: AP Distinction is NOT an award)!),  or discuss unusual/unique personal circumstances.
Your response is limited to 250 words. The Common App has provided an FAQ page for the COVID prompst, and suggests some of the appropriate topics that might be presented are: illness and loss, housing and employment disruptions, and shifting family obligations.  Maybe your grades suffered – maybe under COVID learning models, your grades increased and you found a new resilience in the face of the disruption- all of this appropriate for responding to the question.
This is NOT the place to "brag" about buying groceries for a few of your elderly home-bound neighbors. In fact, that's the very least any of us should be doing as neighbors and citizens in a connected community. Being a good neighbor is NOT exceptional nor extraordinary behavior. Moreover, if it took a pandemic for you to notice your neighbors in-need, that isn't what you should be presenting in your Common App. In contrast, perhaps through shopping for your neighbors,  you've connected you to your community in new ways revealing insights about yourself and others that changed a direction – that becomes the potential for an outstanding Personal Statement. Maybe you had previously spent time with your elderly neighbors and have found new ways to sustain that meaningful interaction. Please use your COVID 19 space wisely – but it is most certainly not another space to note an "accomplishment".
The "Additional Information" Section Will Remain on the COMMON App.
Again as noted, the optional COVID prompt doesn't replace the Common App's existing Additional Information section. That section, along with its 650-word limit, will remain.  If you've done research during the academic year or in a summer program, the research abstract should be placed here.  Have an impressive lengthy list of mathematics, robotics, or film awards exceeding the space provided elsewhere on the Common App for up to five "Honors and Awards" – this is a great place to include these.  Or perhaps, there was a tragic or disruptive experience that impacted your ability to reach your academic potential or participate in extracurricular experiences that might have informed and demonstrated your commitment to your intended major- this is another space to share those insights with College Admissions Officers.  Please reach out to discuss your unique experiences so we can build your College Application PLAN– addressing essays and prompts on the Common Application including:
— Common Application Personal Statement or Core  (650 words)
— College Specific Supplemental Prompts  (150 to 800 words)
— Additional Information
— COVID-19 Prompt
— Portfolio and other links to resumes, blogs, websites available as required or optional elements of college specific applicatons

As I've blogging since early March – I've written close to a dozen COVID impact pieces. By now, you appreciate that higher education is changing, adapting and as such, college admissions officers truly appreciate what high school students are experiencing (abruptly paused extracurricular activities, cancelled summer programs and online learning).  All students have been impacted and the admissions process will adapt to incorporate ways to evaluate students during the 2020-21 College Admissions cycle reflecting all these challenges.  That's why there is a new section for students.
Also, the Common App is adding a section in the Secondary School Report where your high school guidance counselor can explain specifically how their students were impacted academically by changes at a personal and/or school-wide level. Perhaps your high school went to a pass/fail for the second semester.  Your counselor should support any of your individual specific experiences.  Required secondary school reports will detail any changes at your high school that impacted all students.
As you head into the college application season, take pause and appreciate that college admissions officers know that your spring semester was unique given the new prompt- there's an opportunity to elaborate while still being able to work on your traditional Common App core and supplemental essays.
The new section is OPTIONAL  and no one will not hold it against you if you opt out of replying to the COVID-19 query. This is an opportunity to provide additional details about any personal or academic challenges and change that may have resulted during this incredibly difficult and unforeseen time.
If perhaps your plans for Subject tests, SAT or ACT exams or the progression of your planned curriculum were impacted or other disturbances to summer plans or competitions occurred—take advantage of this optional section to discuss what took place and how you have adapted. Provide details but be concise and honest.  I'm here to help you with an appropriate response and evaluate the extent to which the details are worthy of sharing on your Common Application. Always keep your focus on your educational objectives and relate to the college plan you have put into place.
Admissions officers are people too — their lives disrupted, their jobs may have gone remote, and they also have endured cancellations and an inability to engage in their regular routine.  Everyone appreciates the toll of the pandemic and no doubt you can rest assured that all of this will be considered as applications are evaluated for admission to the class of 2025.
Many colleges are test-optional for the upcoming admissions cycle, making the college admissions process even more holistic and looking for ways to evaluate the high school class of 2021 that endured a  very unusual junior year.
When extracurricular and summer plans were paused– or colleges visits and information sessions canceled, universities will re-evaluate other parts of the application that demonstrate connections to "informed interest"—teacher recommendations and essays will be heavily weighted in the coming application cycle.
Schedule an Essay Brainstorming an College Admissions and Common Application Strategy Session with Online College Advisor Bonnie Rabin, PhD
It's Time for Reflections:  
YEAR-END EDUCATIONAL & COLLEGE PLANNING ASSESSMENT
As the end of the school year is within sight, I invite all students to reflect upon goals set in August.  Which of these were easily achievable?  Why?  What have you learned about yourself and how you approach learning and your time that works well and what will you change for the next academic year?
Parents, how have you changed as your student continues to develop their strengths and assume responsibility for outcomes?
Please reach out to schedule your end-of-year conference, we'll review your accomplishments both within and outside the classroom as well as identify opportunities for growth to realize personalized educational goals.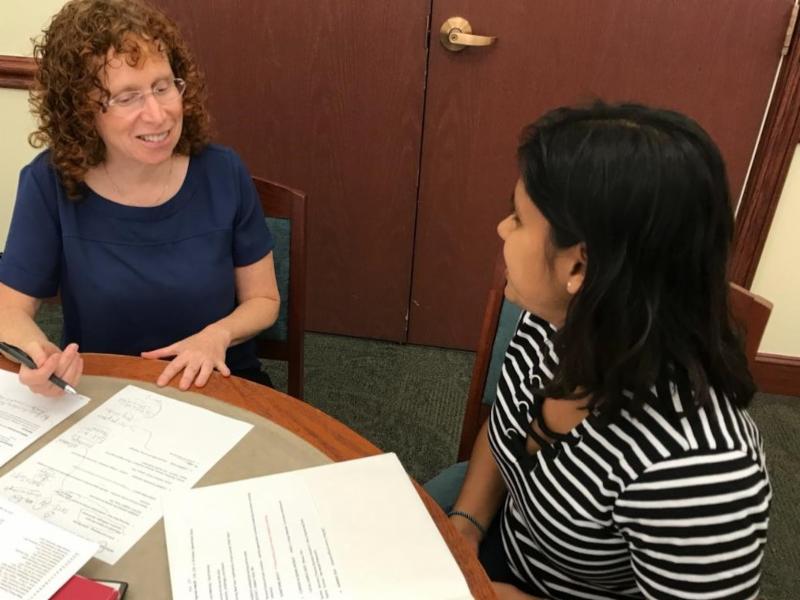 For those of you perfecting final papers and projects, keep in mind your best work may be suitable for submission to a variety of state and national essay competitions (and scholarship applications during the admissions cycle in your senior year). I look forward to discussing and reading any of your papers you would like to share. Please reach out to discuss whether you have any work in progress that is competition-worthy. Please don't under-estimate yourself! Competition venues are available in business, STEM, humanities, poetry, legal issues and more.
 WHAT's ON YOUR RADAR THIS SUMMER? You're home– perhaps you're going back into another set of online courses, or perhaps you are ready for a break. If you're a junior '21 – you have an amazing opportunity- finish your college apps this summer.
STRATEGIC EDUCATIONAL PLAN –
COMPLIMENTARY SUMMER PROJECTS
I am thrilled to again offer complimentary summer career and educational independent projects for 8th to 9th grade clients and new clients signing a Comprehensive package.
Summer Collegiate Programs: Congrats to all students accepted to in UF's Summer Science Research Program, Miami Scholars, FAU H20, Northwestern, Cornell, Oxford, Johns Hopkins, WUSTL, Carnegie Mellon, UF RISE, Penn, Boston, Syracuse, George Washington, Georgetown, Tulane, Drexel!  While these were just a few of the amazing pre-COVID summer plans of my students — now many are redesigned as "online" learning opportunities.  **** Please connect with the university to learn about the modality and instructional design BEFORE placing your deposit.  If in doubt– let's talk about the value of these programs?

Some students were to have traveled abroad to study, conduct internships and volunteer in in Europe, Africa and Central America.  While terribly disappointing- some settings are still possible to connect with the group of students who were going to join you.

Finally, many campers were moving into leadership roles as counselors — a capstone experience after a decade as a camper.  Will your camp help you design an experience to connect with campers remotely to continue within the community in a formal way?
Best Wishes for a strong finish to the school year!
Bonnie R. Rabin, Ph.D.
Educational and College Admissions Consultant
RECENT COLLEGE ACCEPTANCES
Congratulations to our clients!
Carnegie Mellon, Cornell, U. Michigan, Northwestern, Georgia Tech, University of North Carolina, Vassar, Bowdoin, Wellesley, Emory, U.Illinois, Notre Dame, NYU, Rice, University of Chicago, Washington University (WUSTL), Drexel, Tulane, Brown, Purdue, Swarthmore, SCAD, Ohio, Georgetown, Hamilton, Reed, Miami, Johns Hopkins, University of Florida, University of Arizona, Penn State, Villanova, Northeastern, SUNY-ESF, St. Johns, Embry-Riddle, Colgate, Fordham, Columbia, Barnard, Syracuse, Swarthmore, Pittsburgh, Dickinson, Colorado, Rensselaer Polytechnic Institute, Howard, Fordham, SUNY Stonybrook, Duke, Case Western, Rochester Institute of Technology, Parsons, Virginia Tech, Boston U., Hobart & William Smith, Claremont Mckenna, Davidson, Westpoint, Gettysburg, Amherst, Temple, Denison, Howard, UT Austin, SUNY-Binghamton, Hamilton, George Washington, American, Indiana, SMU, James Madison, UF, and many more!
WRITE YOUR SUCCESS STORY!
WRITER BLOCK COLLEGE APPLICATION & COLLEGE ESSAY WORKSHOP