Please join me in offering congrats to all seniors and their families!!
Sample of our Early Decision & Early Action 2018 Acceptances:  UNC, Emory, Cornell, NYU, Rice, University of Chicago, Drexel, Tulane, Maryland, Texas @ Austin, Miami, George Washington, University of Arizona, Penn State, Pittsburgh, Colorado, Boston, FSU, UCF, USF, FAU, FIT
Greetings Middle & High School Families!
It's Time for Course Planning 2018-19:  
AP, IB, AICE, Academies, 
Dual-Enrollment??!!
At this time of year, students and parents are focused on course selection and there is quite a bit of uncertainty  about the value of "Academies", AP classes, AICE vs. IB diplomas and whether "Dual-Enrollment" classes are appropriate. In my practice, I meet families who seem unreasonably misguided about how course choices impact class rank and yes, I also hear unrealistic notions about  the value of the weighted GPA. Families should aim to select a high school and a curriculum that encourages learning and discovery within a community that provides the support for your student's continued emotional development.
Let's get some facts straight:
The single most important factor for academic success as an undergraduate and in the college admissions process, is taking the most challenging and relevant curriculum a student can comfortably manage.
Foundation courses in high school are important to subsequent undergraduate studies. Understanding the potential impact of taking AP Lang or getting off the "calc-path" to your undergraduate experience is essential.  For example, if you have an aspiring physician–there is a required set of undergraduate courses and high school can prepare you for success in those courses.
Your transcript matters most!  The National Association for College Admission Counseling (NACAC) annual State of College Admissions report confirms that universities continue to indicate that the high school transcript (your curriculum and GPA) is the single most important factor in the college admissions process.
While a student's GPA and transcript are a significant determinant of admissions and academic success, there are as many as five to seven qualified applicants for every available space in the freshman class.  As a former admissions committee member and a current South Florida Cornell alumni interviewer, I can assure you that admission committees seek to create a freshman class that is diverse in intended majors, geographic origin and personal interests.
Students who are successful not only in admissions, but as actual undergraduate students, are those who have well defined interests, nurtured as early as middle school and further developed throughout high school.  
Having an academic niche or a personal passion outside the classroom builds motivation, focus and academic success.
What inspires your student?    
AP Classes
Yes, these are the most challenging courses available in high school and will prepare your student for the reality of the demands of the undergraduate academic experience.
Moreover, your scores on AP exams allow admissions to objectively compare students across high schools.
AP exam scores may also substitute for SAT/ACT scores at Test-Flexible universities.
Despite the best of intentions and the best time management, enrolling in too many AP classes can create hours of homework thus limiting time available  for meaningful extracurricular activities (which are also essential for admissions success), needed sleep and family harmony (parent-child dynamics suffer when students are stressed and unnecessary homework  completion "arguments" ensue).
For example, if your student is STEM focused, there is little admissions advantage gained from taking AP History classes which have exceptionally large homework demands.
Again, admissions representatives aren't impressed by APUSH on a STEM applicant's high school transcript.  The flip side, humanities driven students might consider the importance of "big data"! All disciplines are now moving to analytics. So, while AP Physics isn't necessarily your cup of tea, if you're a pre-law, business or even an aspiring English major, consider AP Statistics, AP Psychology or AP Computer Science to add breadth to your file setting you apart from the typical humanities applicant.
Don't follow the crowd- but focus on creating your unique high school curriculum plan
that is relevant to your education, college admissions and career objectives. Leverage my extensive knowledge of academic disciplines and explore some unusual major areas of study (increasing your odds of admission and making you a stronger student).
Let's discuss whether Dual-Enrollment is right for you! 
Some of my current juniors have expressed an interest in Dual-Enrollment courses. You may be interested in the  University of Florida's course offerings and I share the link for your review:
Please review potential classes and give me a shout out to explore how a specific course might fit into your strategic educational plan.  It's important to have very clear reasons for enrolling in any course, but especially an online course as these are not always reviewed favorably by admissions representatives at the most competitive colleges.
Rising seniors should only consider courses that truly interest you and the opportunity to swap something out of your high school curriculum.  Above all, aim for something you cannot take at your high school. This isn't a substitution process- but an enrichment opportunity.
If you are certain you plan to attend UF, FSU or a college within the Florida system,  taking English as a Dual-Enrollment class as opposed to attempting a "5" on AP Lang/Lit would potentially offer a great chance of earning transfer credit towards freshman English as a Florida college student.
Given my experience as a University Professor, please keep in mind, the most competitive colleges outside of Florida will not likely accept online credits as transfer classes,  and this is especially true for  STEM classes.
For rising sophomores and juniors, Dual-Enrollment is an opportunity to possibly experience learning about an interesting subject matter not offered at your high school.
If you don't see any courses of interest at UF, please contact me to discuss some other competitive online programs available to high school students.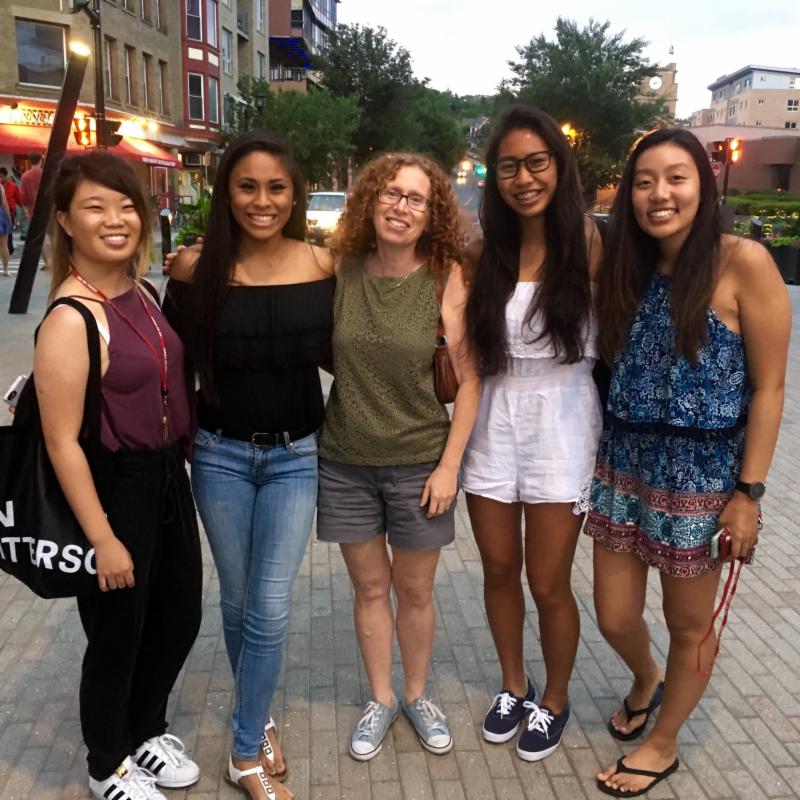 "Academies"
I work with students throughout the US and there is some version of South Florida's "Academy" or "Choice" program nearly everywhere.  To middle school families, these programs look inviting and yes, there are electives that expose young adults to subject matter and readings outside the core curriculum. If you review suggested "high school curricula" at admissions websites, you'll not find "Academies" noted. These are considered "electives".
So, what is the value of these electives?!
Their value to 9th and 10th grade students is ongoing academy discovery.  By 11th or 12th grades, these classes aren't as academically challenging nor as valuable to a successful transition to the undergraduate experience as enrolling in more challenging AP classes.
The core subject matter can spark or solidify an interest. I have yet to find one student who indicates the concepts in these courses or the workload have been challenging.
However, if you are working on an academic assignment/project that has the potential for submission to a science fair, essay contest or  the like – these elective courses can be enriching and valuable additions to the curriculum.  ASK YOUR TEACHER for support!
FINAL THOUGHTS:
YOUR COURSES for 2018-19!!
As noted, your student's GPA and transcript are the most significant determinant of admissions and academic success. High school is a time for academic and personal discovery.  Developing and sustaining a passion for learning cannot be overstated.  Sometimes that discovery is sparked by coursework and other times it is through an extracurricular experience.
There's very little variation in curriculum options across high schools in that all students will complete four years of english, four years of social studies, complete a foreign language and enroll in the math and science classes at a level they can manage.
The differences across high schools and across students are in the electives taken and in whether students enroll in Honors or AP/IB/AICE levels of classes.
Don't waste your electives !
Best Wishes for a meaningful and productive balance of the school year!
JUNIORS 2019: Our June Writers Block Workshop Registration is now open- Please contact me for additional information about completing your Common Application Core Essay before Summer!
Bonnie
Bonnie R. Rabin, Ph.D.
Educational and College Admissions Consultant
561.509.0021