Greetings College Freshman – Class of 2024!
Some of you have already started your undergraduate journey and most of you are packing as you prepare to head off to college freshman orientation and begin the next chapter of your amazing journey!  Congratulations to everyone!   I know this is a bittersweet time for everyone- your senior high school year cut short- and now you head to colleges where much of the learning taking place will again be virtual — college sports and Greek Life opportunities undoubtedly limited and perhaps lurking in the back of your (and parents') minds- the huge uncertainty about how your campus will respond in the event of another outbreak.
Students – please thank your parents again for all their support and your mom really will appreciate a mid-day text to know you are fine and thinking of her as you roam across the campus quad!
Parents – be proud, your emerging young adult is ready to fly, and if they forget to text or call, it typically means they are having a great time.
In case you overlooked or just glanced at my two detailed notes this summer – I know the information in these blogs will serve as a valuable reference.  Of course, if you have questions- please reach out!
Tips For College Freshman During COVID PANDEMIC
COLLEGE PLANNING -TIPS FOR NEW COLLEGE FRESHMAN –  – PART I – All the things you didn't think about!
COLLEGE PLANNING -TIPS FOR NEW COLLEGE FRESHMAN –  – PART II – UNDERSTANDING YOUR DEGREE!
Please find a few last minute TIPS for a successful transition and undergraduate experience:
Seek out your Undergraduate Academic Advisor and make a personal connection.  Your conversation should extend beyond a 10-minute conversation selecting fall classes.  Share your vision and goals and ask for suggestions on what student organizations and professional opportunities exist on campus.  GET INVOLVED!!For those of you heading to a larger university, advising teams aren't typically as personal or as strong as you should expect.  I would welcome the opportunity to continue with students as your dedicated undergraduate academic advisor the next four years.  Information about this opportunity follows below.CLICK TO VIEW MY VIDEO Detailing Roles of an Academic Advisor
Consider finding a Professor who is working on a  research project of interest – go introduce yourself upon arrival and seek out a research assistantship.  Tip: Assistant Professors rather than Associate/Full Professors are actively pursuing tenure and will have research-in-progress and appreciate your free labor.  Yes, even with social distancing -there are opportunities.

Create a LinkedIn Profile – and join every networking group affiliated with your university, including the alumni network.
This will help you find summer internships.     Connect with students from your high school who were 2 to 3 years ahead of you -they will be able to help you connect to internships down the road.
Aspiring law or medical student? Seek out your school's dedicated pre-professional undergraduate advisor and start the process early. They will help you locate opportunities on campus and keep you focused on necessary pre-reqs.I also hope you'll stay connected with me—as I work with undergraduates to launch careers and plan for and complete graduate school applications- including: Law, Medicine, MS/PhD.
More about these services below.
Attend your fall career fair.  It's likely a virtual opportunity-  Many organizations also offer 'meet and greet' sessions the evening before or day-of. – it's unlikely this will occur – so be creative – reaching out in advance.  Use every opportunity to polish your 1-2 minute "hello" speech and continue to be comfortable meeting people and seeking out summer 2021  opportunities.  Don't delay and don't think just because you are only a freshman this won't be a good use of your time.  Focus on smaller companies with fewer people crowding the traditional  booth- that is where you will have more success and less competition as a freshman. again- it's a rough and different horizon ahead- you'll want to stand out from the pack. Your resume should focus on projects completed in classes and skills you have acquired in various positions/courses.If you need guidance with preparing a freshman resume, cover letters or mock interviews- my career services package below may be perfect for you.
Pre-Med– or STEM Graduate school on your horizon– consider REU summer opportunities sponsored by the NSF.        Please reach out for guidance and assistance on selecting and applying for this prestigious program – EXPECTED for PhD and Medical School applicants!
Join Professional Associations related to your field– click on the membership tab and you'll find a nominal fee for a "student membership" – JOIN.  This is not only a networking opportunity, but there are often undergraduate scholarships available to members.
Women and Minorities- there are many niche based organizations- Society of Women Engineers, National Society of Black Engineers – all opportunities to assume leadership roles, learn more, network and possibly garner a scholarship.
Scholarships— even more of these exist for continuing undergraduates than students straight out of high school.  Start searching now– many are due November and December 1 – several offered by various federal government agencies, brokerage houses, assorted professional associations and large technical giants. Yes, your GPA should exceed a 3.5 freshman year to be a viable applicant.
I'd be happy to assist you in preparing your essays and mock interviews.
If you are unhappy with your choice and want to transfer,  I am available to assist with your transfer application.  Applications for transfer for spring semester 2020 are due October, and applications for Fall 2020  are typically due February/March.
If you are overwhelmed – please reach out to your parents, friends, resident advisor or simply stop in at the support services available on your campus.   The transition can be a difficult one at times and I really encourage you to seek academic or emotional support if needed.  With all the excitement of a new community- it can also be overwhelming and isolating – after all- who is going to say "I love you – have a great day" as you walk out the door each morning?  Don't hesitate to stay connected to everyone in your inner circle for support.
504 plan in high school?  You'll need to register again with the college's Disability Compliance officer.
Please Attend all your classes – especially right before an exam. Professors often give hints on what is on an exam and what can be ignored.  Teaching Assistant office hours and recitations should never be skipped- you have a more one-on-one opportunity to clarify where you are lost.  If the professor or teaching assistant's office hours conflict with another scheduled class- you can and should request an appointment.
STEM students- find and form a study group to tackle those 15-20 hour problem sets that will be the norm for the next form years.  Don't go at it alone- connect with others.

Again my two blogs had some additional tips for both parents and students and the links are above.
Wishing all freshman incredible success in your new community. May you find friendship, immerse yourself in learning and be healthy and at peace always!
Please reach out to learn more about:
UNDERGRADUATE ADVISING,  CAREER PLANNING, GRADUATE SCHOOL/TRANSFER
Bonnie R. Rabin, PhD
Get started today creating a strategic educational plan for long term educational success.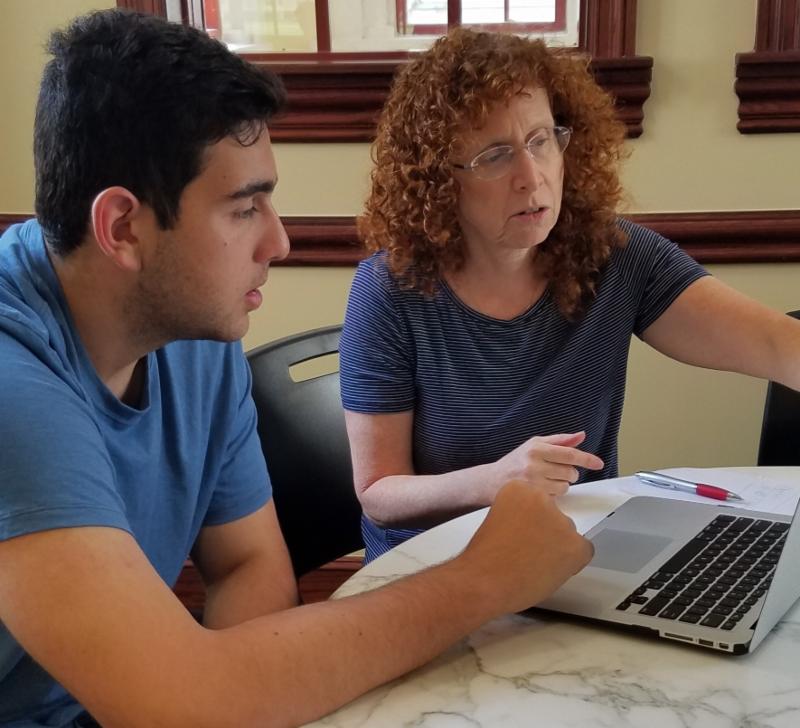 Bonnie R. Rabin, Ph.D.

Personalized Educational Advising & College Application Services
Florida 561.509.0021
Colorado 720.737.9944
 Nationwide 833.MY.ESSAY
Experience the Difference!
Expert  Knowledge & Caring Support
Congrats!!!  A SAMPLE of of recent Acceptances Include:
Princeton, Carnegie Mellon, Brown, Cornell, Georgia Tech (Engineering, Bio-Chem), NYU, Bowdoin, WUSTL, Reed, Michigan (Engineering & Other majors), U.Illinois (Engineering & Others), Vassar, Emory, Case Western, Boston U., UNC, Notre Dame, Miami, Dartmouth, Duke, SCAD, Tulane, Drexel Honors, Parsons, Berklee College of Music, U.Arizona, Penn State, UT Austin, Pittsburgh, SUNY Stonybrook, RIT, UF, plus many more…
My students include aspiring STEM, Business, Pre-Med, Pre-Law, Visual & Performing Arts & Humanities majors
Seniors (2021) – Attend our Fall
Sunday Series WRITERS' BLOCK COLLEGE ESSAY WORKSHOP
August to October
THIS YEAR WE'RE ONLINE on ZOOM – Personalized Conferences