Greetings High School Students and Families,
I've written many blogs about college "fit"– a topic  relevant to students entering high school,  juniors thinking  about approaching college applications and their college campus visits and even graduating seniors trying to determine where to place their college enrollment deposit by May 1 .  College applications and the college admissions process culminates in selecting the university where you'll earn your undergraduate degree  and the campus community that will become your home away from home. "Fit" rests on three pillars which are quite equally important. However, when it comes to STEM COLLEGE ADMISSIONS – one of those pillars is significantly more important – and that's because the quality of a STEM education is by far extraordinary in more selective and highly recognized STEM programs.  Being better educated in STEM is particularly important when you're ready to  launch you STEM career — innovative and cutting edge organizations prefer to recruit STEM students from selective colleges.
Learn more about how to  research colleges and majors you'll learn about
Understanding Academics & Leveraging Your Personal Strengths and Passions
Click to schedule your Educational and College Admissions Planning Assessment with College Advisor Bonnie Rabin, PhD
In two separate posts, I spoke about What Admissions Representatives Consider:
COLLEGE ADMISSIONS: WHAT DO ADMISSIONS OFFICERS CONSIDER IN YOUR COLLEGE APPLICATION?    and
WHAT DO ADMISSIONS OFFICERS LOOK FOR IN STEM APPLICANTS? STEM COLLEGE PLANNING
Juniors- class of 2021 may have just started to explore colleges and yes, some students have had their short "list" since middle school. Students in 8th (2024) to 11th (2021) grades will can reduce confusion about which campuses may be a "best" fit if the high school years include a healthy balance of relevant and appropriately set of academic challenges and extracurricular experiences for discovery.  In  COLLEGE ADMISSIONS ASSISTANCE: WHO ARE YOU? EARLY COLLEGE PLANNING!  I noted how discovery increases your chances of college admissions success by clarifying educational goals and taking the steps throughout high school to build a foundation based on actual experiences both within and outside the classroom.   SCHEDULE AN EDUCATIONAL & COLLEGE ADMISSIONS PLANNING ASSESSMENT with Bonnie Rabin, PhD
I often meet young adults who seem to think they have already their undergraduate major  and even planned their graduate focus! Their enthusiasm is wonderful, but at times these early academic/career choices rest upon preconceived notions about their interests and  misinformation about a given field of study.  Sometimes, well meaning parents may "push" students towards a path that may leave a less-than-confident young adult less likely to explore all the available educational and career options.  At 15, 16, 17 and even 22 or 28 – young adults should feel the excitement over the endless realm of career paths rather than feeling boxed in.   EXPLORE EXPLORE EXPLORE!!
Students arrive at our first meeting not always ready to think outside their comfort zone.  As young adults, high school is the time to learn more about EVERYTHING and rule out nothing.  The essential process of  discovery includes exploring a variety of academic disciplines many of which may yield a rewarding and joyful educational and career path.   Given  my curriculum expertise at the undergraduate and graduate levels, I continue to  encourage students to explore to find a unique path.
ith a few hundred academic majors and nearly 4000 undergraduate colleges, it's very unlikely that the high school curriculum and extracurricular experiences enjoyed thus far have put all of the available and amazing options on your student's radar.
THAT IS STEP 1 your   College exploration process!!  Let me help your student explore undergraduate curriculum maps and  faculty research institutes to discover the "problem" they want to solve? Where will your student make an impact!?  Did you know that colleges are more likely to accept students who have well-defined interests and show "informed interest"?   College applications often ask students to respond to college essay prompts "why us – why this major?" leaving the student who has experiences in a better position.
The "fit" between a student and a university is based upon three pillars – –
Let's Consider the STEM RELEVANT CONSIDERATIONS in COLLEGE FIT
1. ACADEMICS
The university you attend should provide an outstanding academic experience in your intended major/minor fields of study, along with appropriate internship and career placement opportunities. This is paramount to selecting where to attend.
There's a major field of study to match the unique strengths and interests of every young adult! With nearly 4,000 colleges offering an impressive number of traditional and cutting edge majors and minors, it can indeed be overwhelming to navigate the maze of available degree options.  Where do you begin?  Think genetics is exciting- have you considered Computational Biology?  Think business is for you– what about Financial Engineering?
Your evaluation of academics should move beyond published lists of college rankings — especially when it comes to STEM fields.  Broad rankings are just that – and the real focus is on a major when you consider that the best mathematics, computer science, materials science, aerospace engineering or neuroscience isn't always and Ivy League college. The most important steps include learning how to navigate through the "Academics" and the "Research" tabs to fully explore the curriculum maps, degree requirements and the research projects faculty are conducting. As a former university professor with 30+ years of experience on curriculum planning committees, I'm able to help your family assess "academic fit" and effectively explore your academic options to balance each student's current and emerging interests and strengths.
For STEM applicants – this is the most important and driving factor in selecting a campus. Aiming for the best educational experience is essential to be prepared in a world where the pace of technology change makes it essential that your education has equipped you to adapt to the innovations taking and preparing you for when it comes time to launch your career as well as five, ten or even fifteen years after you earn your degree.
2. SOCIAL
The social fit is important as each student is looking to find a "home-away-from-home" for their next four years. Is the campus inviting, inclusive and are there opportunities for ongoing social and emotional growth?
This is exactly why students visit university campuses before enrolling. Your Educational and College Admissions Assessment will help you hone in on the criteria that are important to you.  Let me help you understand how to have an informative and meaningful campus visit.
When it comes to STEM programs, the curriculum entail demanding weekly problem-sets/homework and labs.  Courses are often 4-credits (most others are 3-credits) and you'll be working in teams- it's essential to your survival but also mandated by the curriculum.   Make sure the level of "
3. FINANCIAL AFFORDABILITY
Every family faces unique financial circumstances and we factor those into the choices of where to apply and enroll. Additional details are noted on our financial aid page and in several recent blogs. If you're ineligible for financial aid, merit aid remains an important option to explore.
THERE ARE MANY CAMPUSES PROVIDING an EXCELLENT EDUCATION offering deep discounts on tuition given your "admissions profile".
For STEM applicants- there is an interesting and relevant point – and it's this.   STEM applicants attending the most selective and highly-ranked programs outplace their peers when it comes to being recruited for summer internships and being hired by the most lucrative/innovating/exciting technology organizations. For example, STEM applicants from engineering programs at MIT, Stanford, Cornell, Michigan, CMU, Georgia Tech, UIUC will have access to and nearly always secure summer internships.  Some organizations recruit exclusviely at some of the universities.   University tuition is expensive and most families receive some type of financial assistance.   Balancing out STEM – the cost is an investment as STEM students find lucrative jobs during and after colleges- and the return on that investment is even higher from a more selective STEM program  — moreover, unlike other undergraduate majors –engineers and computer science majors are just two examples where an undergraduate degree is sufficient to land an exciting and meaningful first job and the pay is impressive.
Finding Your Passion:
There's a major field of study to match the unique strengths and interests of every young adult!  With nearly 4,000 colleges offering an impressive number of traditional and cutting edge majors and minors, it can indeed be overwhelming to navigate the maze of available degree options.
As a former university professor, I've designed and approved accredited curriculum programs for several universities.  Having spent thirty years advising thousands of students, I invite your family to leverage my knowledge of curriculum requirements and discover an academic area your student will be truly passionate about.
The more you know about your interests and your strengths, the more likely you'll embark upon a path that is joyful and rewarding. 
The subject areas introduced in high school are just the tip of the proverbial iceberg.  Consider:
STEM: computational biology, nanotechnology, animal science, food science, viticulture and enology (the art of grape growing and winemaking)
BUSINESS: business analytics, information systems, fashion marketing or financial engineering
IS YOUR STUDENT ON TARGET?
Personalized attention and expert knowledge: academic advising and college application strategies to empower every student for success!
With over thirty years of experience, Professor Emeritus, Bonnie R. Rabin, Ph.D. provides each of her clients with comprehensive one-on-one educational counseling as well as expert guidance with their college applications at both the undergraduate and graduate levels.  College Admissions Assistance – create your unique plan to realize your goals.
JUNIORS 2021– REGISTRATION NOW OPEN – COLLEGE APPLICATION WRITERS BLOCK WORKSHOP   JUNE 1 TO 5 2020
Especially for Juniors:
There  are 3900+ potential colleges in the US!.
Juniors should begin the process of exploring major areas of interest. Leverage my university experience and knowledge of a variety of majors. Let's explore together!
Look for synergies between your high school curriculum, your strengths and potential undergraduate majors of interest!
WRITERS BLOCK is included in all packages.  Students will spend time to complete their Common / Coalition Core Essays prior to summer vacation.
I invite you to contact me with any questions about decisions you're facing about your courses, extracurricular activities, learning accommodations or the entirety of your college application process.
Have an awesome day!
Bonnie R. Rabin, Ph.D.
Educational and College Admissions Consultant
South Florida 561.509.0021    Click to View our 
Boca Raton Location
Boulder and Metro Denver Colorado 720.737.9944    Click to view Our 
Boulder
and 
Metro Denver
 Locations
Nationwide  833.MY.ESSAY
Is Your High School Student on Target- Curious, Independent?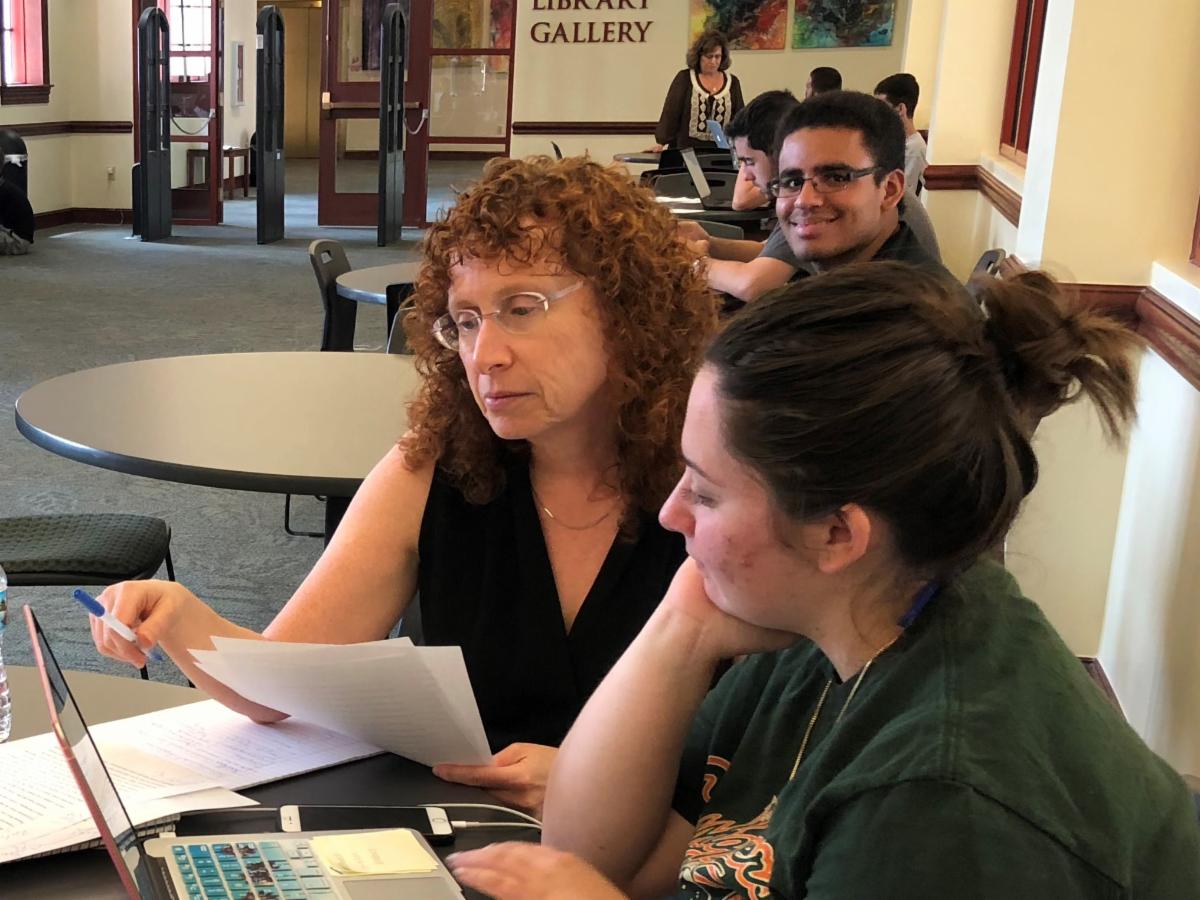 Discover and Explore College Advisor
Bonnie R. Rabin, Ph.D.
Guiding her clients to define and realize educational and career goals.
With over thirty years experience as a university professor and admissions committee member, you're invited to leverage her extensive knowledge of university curricula and career opportunities.
Be inspired!
Pre-College Academic Advising!
Congrats!!!  A SAMPLE of our 2020 College Acceptances Include:
Cornell, Boston, Carnegie Mellon, NYU, WUSTL, U Michigan (Engineering & Other majors), University of Illinois (Engineering & Others), Miami, Dartmouth, Brown, SCAD, Tulane, Drexel Honors, Parsons, Berklee College of Music, UArizona, Penn State, UT Austin, Pittsburgh, SUNY Stonybrook, RIT, FSU, UCF, FAU plus many more…